Toasted Coconut Cake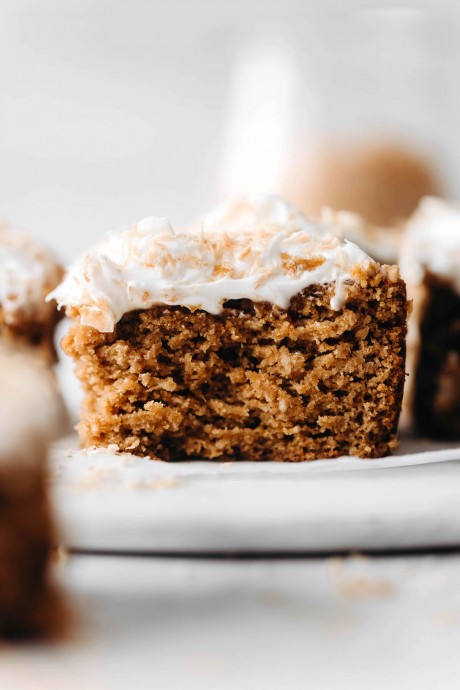 With coconut butter in the batter, toasted coconut folded in, and coconut cream frosting, this fluffy vegan grain-free Toasted Coconut Cake is the ultimate tropical treat!
The batter is vegan and grain-free, made in one bowl. We are using applesauce and coconut butter to make it super moist without oil, coconut and tapioca flour combined for the perfect crumb, coconut sugar for healthier sweetness, and toasted coconut folded in at the end.
You can buy coconut already toasted, but that perfect golden color is only about 10 minutes of toasting away and the smell is a truly glorious addition to your kitchen. Make sure to toast a little extra for sprinkling on top! The frosting is simple coconut cream whipped up and lightly sweetened. You don't need it, as I said, but it is a delicious creamy contrast. Or simply drizzle with melted coconut butter instead. If you like coconut but aren't like obsessed, swap the coconut butter in the batter for another nut butter. The coconut butter has a strong coconut flavor, but tahini or almond butter is delish too. Smooth the top with a spatula dipped in coconut oil before baking. Cool the cake completely before frosting, otherwise the coconut cream will melt right off. Chill coconut cream at least overnight, preferably for 24 hours before using. I recommend a brand with guar gum, the more natural brands don't work as well for whipping. This one is my favorite.
Ingredients:
3/4 cup (180g) unsweetened applesauce
3/4 cup (165g) coconut butter (or any nut butter)
1/4 cup (60g) coconut milk
1/2 cup (70g) coconut sugar
1 tsp vanilla extract
1 tbsp lemon juice
1/3 cup (40g) coconut flour
1/3 cup (40g) tapioca flour
1/2 cup (35g) unsweetened shredded coconut (plus more for topping)
1 tsp baking soda
1/4 tsp salt
1 can coconut cream, chilled overnight