Cookies and Cream Cupcakes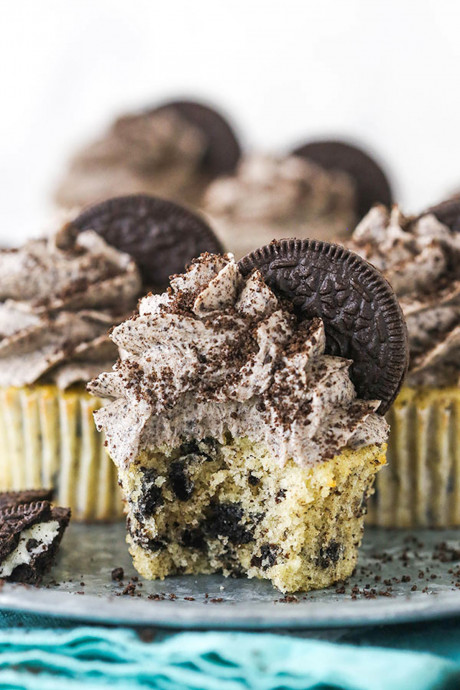 Have you ever dreamt of a soft and fluffy cupcake filled with Oreo cookie pieces and topped with Oreo buttercream? Well, that dream just became a reality with these delicious Oreo Cookies and Cream Cupcakes!
If you're an Oreo superfan like I am, then get ready to fall in love with these drool-worthy cupcakes. These babies have Oreo chunks in the cupcake, Oreo crumbs in the frosting, and more Oreo crumbs and pieces on top! They're the ultimate cookies and cream cupcakes. These cupcakes are light and fluffy, but the cookies in them don't sink. And speaking of the cookies, they are FULL of Oreos. I can confidently say that these cookies and cream cupcakes contain the perfect amount of Oreo cookies without overwhelming them.
Plus, the buttercream frosting is so creamy and velvety, just like the creme of an Oreo! Everyone will know the flavor of these cupcakes from a mile away. They're Oreos in cupcake form, in terms of looks and taste! And they're so easy to make and decorate. All you need for this recipe is some basic vanilla cupcake ingredients and the star of the show – the Oreos!
Ingredients:
FOR THE COOKIES & CREAM CUPCAKES
1 cup plus 2 tbsp (146g) all-purpose flour
1 1/4 tsp baking powder
1/4 tsp salt
1/4 cup (56g) unsalted butter, room temperature
1/4 cup (60ml) vegetable oil
3/4 cup (155g) sugar
2 large eggs
1/2 cup (120ml) buttermilk
1 1/2 tsp vanilla extract
2 cups chopped Oreos (about 16 Oreos)
FOR THE OREO BUTTERCREAM
1 1/4 cups (280g) unsalted butter
3 1/2 cups (403g) powdered sugar
1 1/4 tsp vanilla extract
5–6 tbsp (60-75ml) water or milk
Salt, to taste
1 1/4 cups Oreo crumbs (about 10 Oreos)
Oreos, for decorating
Oreo crumbs, for decorating