Twix Thumbprint Cookies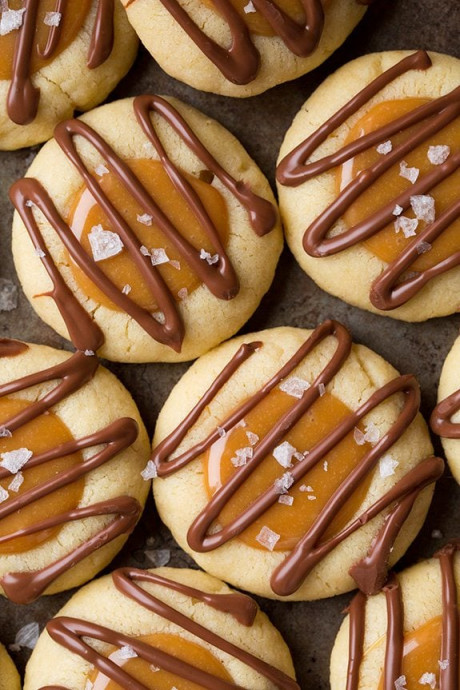 A buttery tender thumbprint cookie, filled with an easy, sweet caramel filling and finished with a milk chocolate drizzle and flaked sea salt. These cookies taste like Twix but better, so in other words they're an absolute dream.
It's getting to be that time of year, where there seems to be an endless supply of cookies coming from every direction – or maybe that's just me because I make ridiculous amounts of cookies during the holidays! But no one is complaining around here.
You can also make a chocolate version of these cookies, but I wanted to go with a traditional vanilla version first – and they will remind you so much of a Twix candy bar! What's not to love here? Melt in your mouth shortbread style cookie, chewy caramel center with a hint of sea salt, and a finishing touch of luscious chocolate, they are simply dreamy! Be sure to try them at least once during the holidays, you won't regret it! If you want to take it one step further you can double the amount of chocolate and instead of using chocolate chips use good quality chopped chocolate, temper it and dip the bottoms of the cookies before you drizzle the tops! Very delicious!
Ingredients:
2 1/4 cups (318g) all-purpose flour
1/2 tsp salt
1 cup unsalted butter, softened about halfway*
2/3 cup (140g) granulated sugar
2 large egg yolks
1 1/2 tsp vanilla extract
26 (208g) soft caramels such as Kraft, unwrapped
3 1/2 Tbsp heavy cream
3/4 cup (128g) milk chocolate chips or chopped chocolate*
Maldon sea salt flakes or Fleur de Sel, optional