Perfect Salmon Burger with Lemon-Yogurt Sauce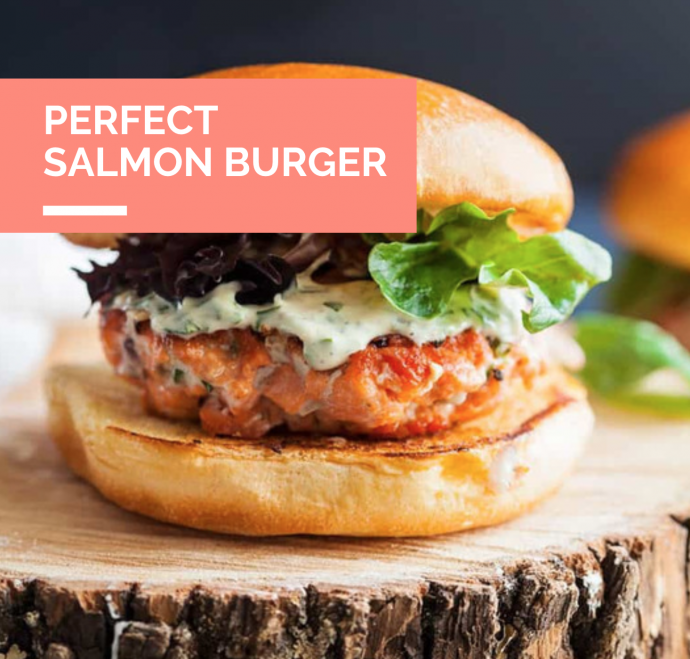 The best part about homemade burgers is that you have control over the ingredients. Salmon burgers are a bright, fresh change from the regular baked fillets you may already know. Made with no binders or fillers, these burgers are far from the traditional "salmon patty" and their simplicity lets the salmon get all the praise. They're simple, quick, and insanely satisfying. The best part? They come together in 30 minutes, making them the perfect weeknight treat.
Change up your seafood routine with this delicious burger. I guarantee you will love them.
Ingredients
1 1/2 pounds center-cut salmon fillet, skin and pin bones removed (I recommend buying wild salmon, but you can choose any).
2 eggs
2 tablespoons red onion minced
1 tbs cilantro finely chopped
1 tbs parsley finely chopped
1/2 tbs freshly grated ginger
1/2 tbs salt
1/4 tbs pepper
2 tbs vegetable oil or sunflower oil for frying
Lemon-Yogurt Sauce
1/2 cup plain yogurt
2 tbs light mayonnaise
2 tbs finely chopped parsley
2 tbs finely chopped green onion
1 tbs fresh lemon juice
1/8 tbs salt
1/8 tbs black pepper
Instructions
Step 1
Chop salmon into 1/8- to 1/4-inch pieces. Transfer to a bowl with 2 eggs, 2/3 cup parsley, 1/4 cup green onions, 2 tablespoons lemon juice, bread crumbs, seafood seasoning, 1/2 teaspoon salt, and 1/2 teaspoon pepper; mix together with your hands. Divide into 8 equal portions and pat into 3 1/2-inch patties (1/2 inch thick). Chill, covered, at least 30 minutes or up to 4 hours.
Step 2
Stir together yogurt, light mayonnaise, 2 tablespoons parsley, 2 tablespoons green onion, 1 tablespoon lemon juice, 1/8 teaspoon salt, and 1/8 teaspoon pepper in a small bowl. Process in food processor until the herbs are chopped, just a minute or so. Set aside.
Step 3
Heat 2 tablespoons vegetable oil in a heavy skillet over medium-high. Add the fillets and sear on one side without moving them for 3 to 4 minutes. They should release naturally from the pan when they have a good crust. Turn, and cook 2 to 3 minutes more until desired doneness.
Serve right away on buns with lemon-yogurt sauce and arugula or lettuce.
Tips for the perfect salmon burgers.
If your fish has skin when you buy it, lay it flat on your cutting board, skin side down and run a sharp knife along it to remove it.
As always, use fresh ingredients here. Since there aren't many, buy good ones.
Use a hot, non-stick skillet or grill for your fish and be gentle with it. I used my trusty cast iron–but don't overcook it or the fish will dry out. One-inch thick salmon burgers will need about 4 minutes on the first side and about 3 on the other. If you want them more rare, take your salmon burgers out a couple of minutes early.
Top with avocado slices, bacon, and crumbled bleu cheese and serve on warm ciabatta bread or a burger bun.
Made this burger? Let me know how it came out in the comment below!