Creamy Old Fashioned Rice Pudding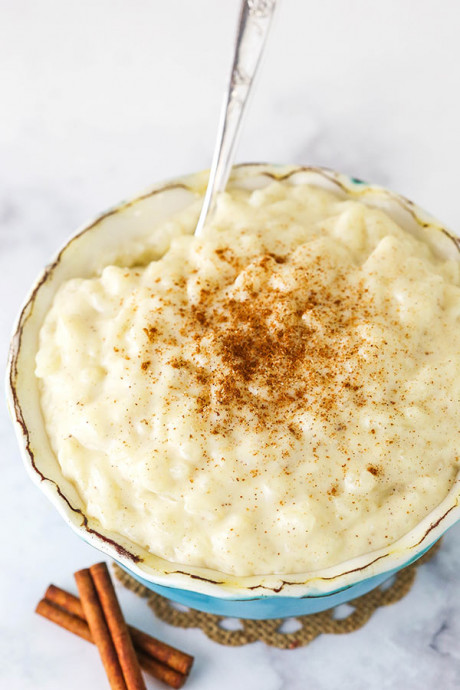 This creamy, comforting and Old Fashioned Rice Pudding recipe is easy to make on the stovetop. It's a cozy, quick-fix snack or dessert that's perfect for chilly afternoons!
If you've never tried rice pudding, you really should. Rice pudding is so nice served warm. It's full of cozy flavors from the cinnamon and brown sugar! When the weather warms up, rice pudding can be served cold to become a sweet and refreshing summer treat.
I personally love the texture that the rice gives to this pudding! Letting it simmer slowly allows it to puff up and be more dessert-like. The combination of texture and flavor is delightful. This rice pudding is fantastic! There's virtually no prep time for this recipe – you just have to combine your ingredients and cook! The pudding comes together on the stove in about 30 minutes. Though it's definitely best fresh, you can cook your rice in advance if you'd like to save even more time on this recipe. Let it cool, store it in the fridge a day or two ahead of time, and bring it back to a simmer on the stove before continuing with the recipe as usual. Keep leftover rice pudding in an airtight container. Once cooled completely, store it in the fridge. Rice pudding stays fresh for 3 days in the fridge or 3 months in the freezer. If you store it in the freezer, thaw it in the fridge overnight before eating or reheating. Some people like cold rice pudding, but you can easily warm up your leftovers on the stove if desired. Do so over low heat and stir continuously. Add a little bit of milk at a time to thin out the pudding until it's reached your desired consistency.
Ingredients:
1 large egg
1/4 cup (52g) white or light brown sugar
1 tsp vanilla extract
1/8 tsp ground cinnamon
2 cups (480ml) whole milk
1/2 cup (120ml) heavy whipping cream
1/3 cup (65g) short grain white rice (I used arborio)
Pinch of salt