Cranberry Orange Muffins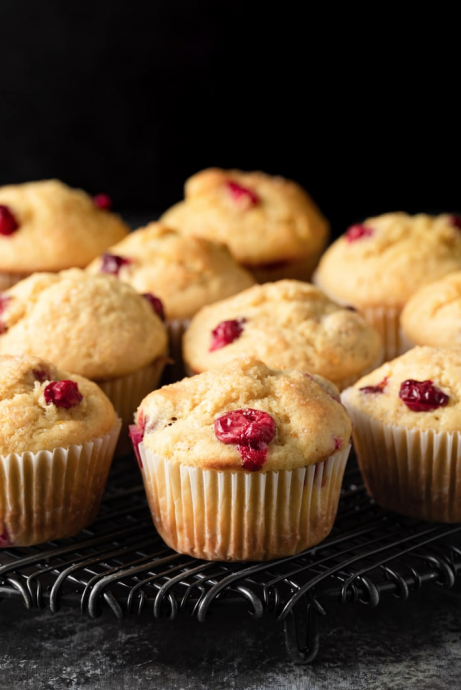 Tender cranberry orange muffins bursting with flavor from fresh orange juice, orange zest, and tangy cranberries. This simple recipe will become a family favorite! These cranberry orange muffins are so flavorful. They will quickly become a favorite with anyone who tries them.
When you're in the mood for a sweet, zesty muffin, this is the one you need. It' comes together quickly and tastes incredible. I used my basic muffin recipe as a starting point for today's muffins. It's a well-loved recipe that already includes a cranberry orange variation. I thought it would be great to have a dedicated recipe for this fantastic flavor. I made one change in addition to adding orange and cranberries. And that was the addition of baking soda. It reacts with the acidity in the orange juice to create a domed muffin top.
The proper ingredient ratio is used to create a wonderfully textured muffin that is dense but not dry. The muffin method is used for mixing the ingredients. The thick batter is sturdy enough to support the plump cranberries so they don't sink to the bottom of the muffin. It's so easy to whip up these cranberry orange muffins. Simply whisk the dry ingredients together, whisk the wet ingredients together, then combine the two. Plop the batter in a muffin tin and bake.
Ingredients:
2 cups (260 g) all-purpose flour
½ cup (100 g) granulated sugar
2 teaspoons baking powder
½ teaspoon baking soda
½ teaspoon salt
¼ cup (60 ml) fresh orange juice
½ cup (120 ml) milk, room temperature
½ cup (114 g) unsalted butter, melted and cooled
2 large eggs, room temperature
1 tablespoon orange zest
¾ cup (75 g) fresh cranberries
2 tablespoons coarse sugar, optional