Raspberry Ripple Cake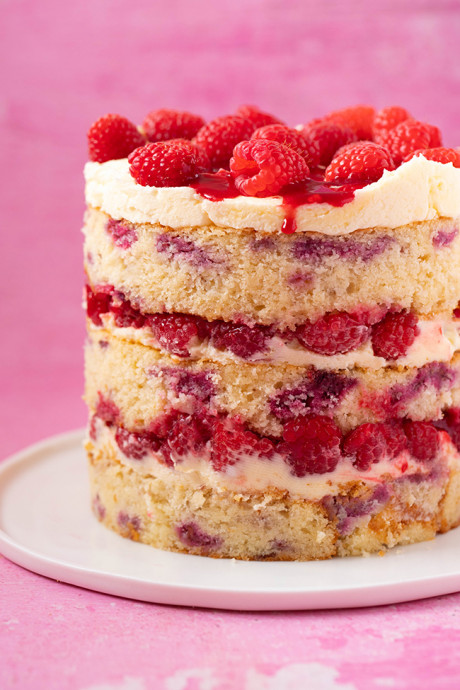 Inspired by the popular ice cream flavour, this Raspberry Ripple Cake is soft, sweet and super tasty. Layers of raspberry cake intertwined with vanilla buttercream, raspberry sauce and fresh raspberries. More specifically, three layers of raspberry vanilla cake sandwiched together with creamy vanilla frosting, a tart raspberry sauce and dozens of juicy raspberries.
It's a raspberry lovers dream. This beautiful cake starts with a lovely raspberry vanilla cake. I've used my favourite Funfetti Vanilla Cake but swapped out sprinkles for frozen raspberries. You could use fresh raspberries if you prefer. Once your cake is cooked and cooled, you will cut it to make three layers. Next up is the vanilla buttercream. It's thick and creamy and perfect for layer cakes. Then you can make the raspberry sauce. You only need three ingredients and it'll take about 10 minutes to make. I've used frozen raspberries for this but you can use fresh if you prefer. Finally, there's the milk soak. It is just full cream or full-fat milk and vanilla extract. This lovely milk soaks into the cakes and makes sure they stay moist all the way through. Once you've assembled all the layers, the cake just needs to go into the fridge for at least 1-2 hours to set. Then it's time to cut into your masterpiece and enjoy.
Ingredients:
Raspberry cake
230 grams (1 cup or 2 sticks) unsalted butter, room temperature
200 grams (1 cup) caster sugar or granulated sugar
2 teaspoons vanilla extract
3 large eggs, room temperature
315 grams (2 and 1/4 cups) plain flour or all-purpose flour, sifted
3 teaspoons baking powder
Pinch of salt
240 ml (1 cup) full fat or whole milk, room temperature
60 ml (1/4 cup) full fat sour cream or Greek yogurt, room temperature
150 grams (1 and 1/2 cups) frozen raspberries
Vanilla buttercream
230 grams (1 cup / 2 sticks) butter, room temperature
2 teaspoons vanilla extract
500 grams (4 cups) icing sugar or powdered sugar, sifted
2–4 tablespoons full fat or whole milk
Raspberry sauce
150 grams (1 and 1/2 cups) frozen raspberries
65 grams (1/3 cup) caster sugar or granulated sugar
1 tablespoon water
Squeeze of fresh lemon juice, optional
Milk soak
120 ml (1/2 cup) full fat or whole milk
1 teaspoon vanilla extract
250 grams (2 cups) fresh raspberries, to decorate