Vegan Buffalo Cauliflower Tacos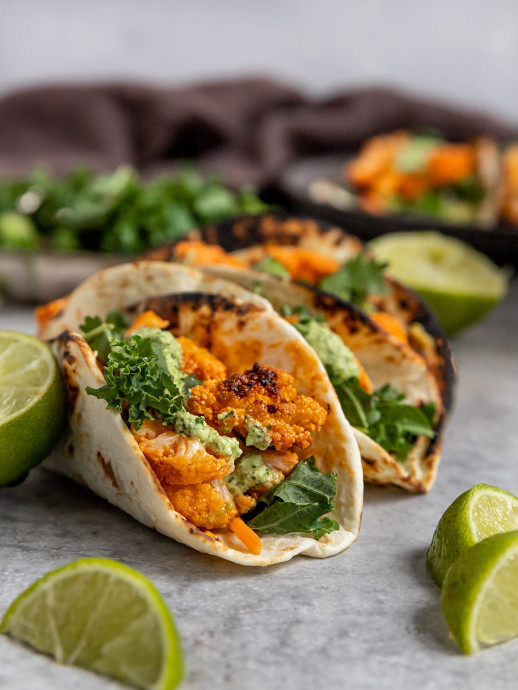 These Vegan Buffalo Cauliflower Tacos with cilantro lime crema are the best easy & gluten-free plant-based dinner! Spicy buffalo cauliflower is paired with mashed avocado, fresh greens, and a delicious cashew crema for a vegan taco recipe full of flavor. Making homemade tacos is one of my favorite go-to dinner ideas. There is always an endless possibility of flavors- and who doesn't love any recipe with a healthy amount of avocado mixed in?!
These tacos take just about 40 minutes to whip up and store great as leftovers too! While I decided to pair these tacos with avocado, a cilantro lime cream sauce, and fresh kale, there are a ton of other options. Since buffalo wings are typically served with ranch, a homemade vegan ranch would be a great option! You can even serve with Ranch Mashed Potatoes too! The tang of the buffalo sauce pairs really well with more mild flavors so a shredded vegan cheese, lettuce, or cooked black beans all make really great additions to these tacos. The cilantro cream sauce and the buffalo cauliflower are naturally gluten-free. However, I did use flour tortillas. To make this recipe completely gluten-free you can sub the flour tortillas for for corn tortillas. You can even use cassava flour tortillas to make this recipe completely grain free or lettuce wraps if you're trying to make it low-carb.
Ingredients:
Baked Buffalo Cauliflower
1 Cauliflower Head, cut into bite sized pieces (about 6 cups loosely packed)
½ (116 grams grams) cup hot sauce
2 (29 ml) Tbsp oil (I used avocado oil)
1 tsp (2 grams) garlic powder
½ tsp (3 grams) salt
¼ tsp (.5 grams) black pepper
Cashew Cilantro Crema
½ cup (70 grams) raw cashews, soaked 1 hour in hot water*
½ cup (12 grams) packed cilantro
6-8 Tbsp (88-118 ml) water
½ tsp (2 grams) garlic powder (or 1 fresh garlic clove)
1 Tbsp (15 ml) lime juice
½ tsp (2 grams) salt (add more or less to preference)
Taco Ingredients
10 mini flour tortillas
1 cup (30 grams) loosely packed kale/cabbage mix (sub 1:1 with any fresh greens)
2 small avocados (or 1 large)
1 Tbsp (15 ml) lime juice
salt & pepper to taste