Fresh Baked Blueberry Donuts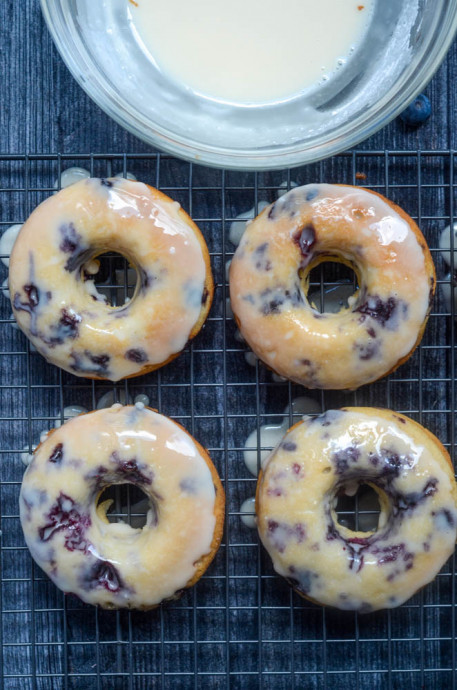 These baked blueberry donuts are bakery quality donuts that are packed with fresh blueberries and topped with a sugary glaze to make the perfect breakfast with a cup of coffee. I used to really like the blueberry donuts from Dunkin Donuts. I don't even know if they're still selling them, but they were the perfect texture of donut to me (cake-like) and sweet, of course. The kind of sweet that's not too sweet but perfect with your coffee. If only we could add something to make them even better, what could it be? Oh yeah - actual blueberries? True story.
The recipe for these blueberry donuts have you bake the donuts instead of fry them -- and they have the same, delicious cake-like consistency as the ones from Dunkin Donuts. They're moist but not so moist that they fall apart in your hands. These donuts also take you no more than 10 minutes of your time. Hallelujah! Fresh blueberry donuts on your table in a flash!
The glaze is a very simple combination of confectioner's sugar, vanilla extract, and milk. You can play around with the thickness of the glaze by adding more or less milk, but I typically am happy with the consistency after adding 2 Tablespoons of milk to the bowl.
Ingredients:
1 cup all-purpose flour
½ cup light brown sugar, packed
½ teaspoon salt
1 teaspoon baking powder
½ cup buttermilk (OR yogurt OR sour cream)
2 Tablespoons unsalted butter, melted
1 large egg
1 cup blueberries
For the glaze:
1 cup confectioner's sugar
½ tsp pure vanilla extract
2-3 Tablespoons milk