Rotel Dip (Loaded Velveeta Cheese Dip)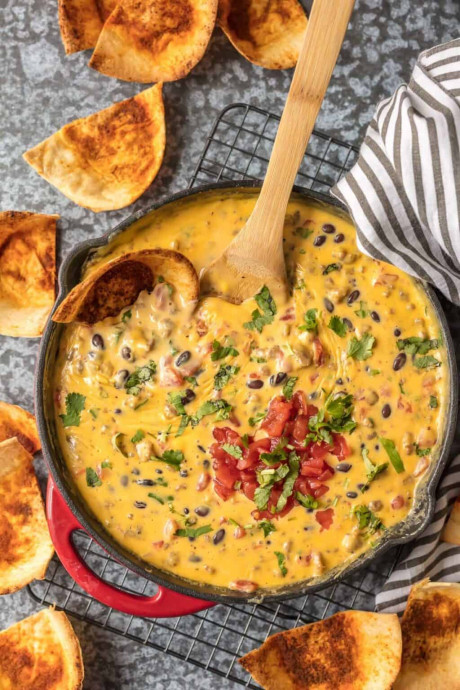 Rotel Dip (Loaded Velveeta Cheese Dip) is the ultimate Super Bowl appetizer. This EASY Rotel Dip recipe is loaded with Velveeta, beer, pepper jack, black beans, Rotel, and sausage! For me it just doesn't get better than this creative Velveeta queso recipe.
This Loaded Velveeta Cheese Dip with taco tortilla chips is out of this world, so simple, and sure to please. You can make it in a skillet or in a slow cooker, making it an instant favorite. Loaded Rotel Dip is the kind of Velveeta Dip Recipe that people will come to expect from you again and again. It will make you queso famous! I'm known for loving cheese and I can't help but admit this easy Velveeta Queso is one of my all-time favorites. It's just that nothing compares! Easy, creamy, loaded with goodness…it's a party dip that can't be beat. Don't forget those homemade taco tortilla chips. They're so simple and so delicious. If you can't tell, I'm a little bit in love!
Ingredients:
2 8 packs Old El Paso Taco Boats
1 ounce Taco Seasoning Click for Homemade Recipe!
Olive Oil Spray
1/2 lb. hot pork sausage or regular, casing removed (Such as Jimmy Dean)
salt and pepper to taste
3/4 cup Pale Ale beer or your favorite type of beer
16 oz. Velveeta cut into 1" cubes
1/2 c. Shredded Pepper Jack cheese
1 can Rotel Tomatoes, undrained 14.5 ounce can
1 cup black beans drained and rinsed
1/4 cup chopped fresh cilantro