Triple Almond Cinnamon Rolls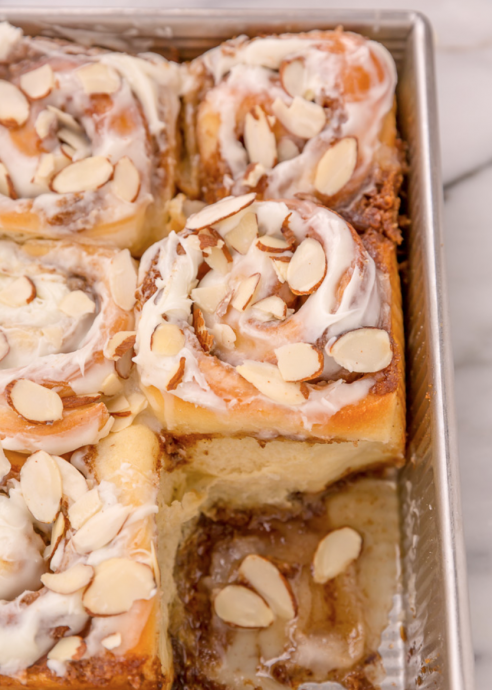 Triple Almond Cinnamon Rolls are the ultimate breakfast treat! This indulgent recipe features soft and fluffy yeasted buns that are filled with brown sugar cinnamon filling and topped with a sticky sweet glaze and slivered almonds! This homemade almond cinnamon roll recipe is a MUST for all of the almond lovers out there!
The rolls are so soft, the filling so sweet and gooey, and the almond glaze perfectly sticky and sweet! The crunchy slivered almonds on top add the perfect contrast of texture and make the rolls look like they came from a fancy bakery!While having an electric stand mixer fitted with a dough hook is VERY useful for this recipe, it can be made without one. You'll simply knead the dough by hand instead. So get ready to use some elbow grease! Because it will take about 10 to 12 minutes. But it's doable! Bakers were making cinnamon rolls and sticky buns long before the age of fancy electric mixers!
Ingredients:
For the Dough:
1 cup (226 grams) whole milk
4 tablespoons (57 grams) unsalted butter, cut in cubes and very soft
1/2 teaspoon almond extract
3 and 1/2 cups (406 grams) all-purpose flour, divided
(1) 0.25 oz package rapid rise yeast
3 tablespoons (35 grams) granulated sugar
1/2 teaspoon salt
1 large egg, at room temperature
For the Filling:
1 cup (213 grams) light brown sugar
1/2 Tablespoon ground cinnamon
1/2 cup (113 grams) unsalted butter, VERY soft
For the Topping:
1 cup (114 grams) powdered sugar, plus more if needed
1 teaspoon almond extract
1 to 2 Tablespoons milk, as needed
1/2 cup (50 grams) slivered almonds, toasted