Chorizo Breakfast Burritos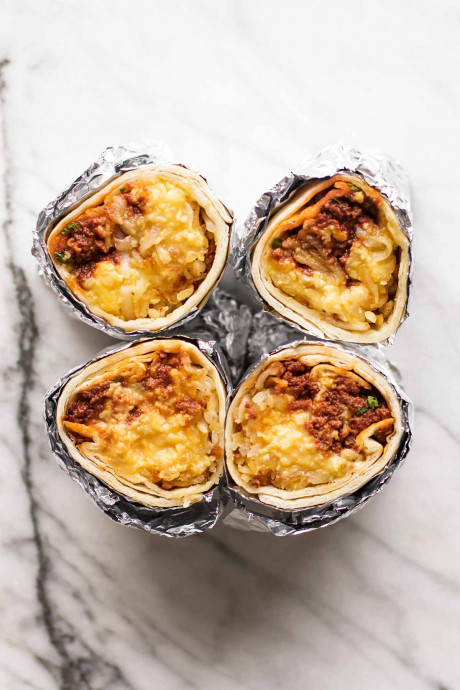 These hearty chorizo breakfast burritos are made with cheesy scrambled eggs, Mexican chorizo, and potatoes. There are a lot of wonderful things in life and one is a complete breakfast wrapped up in a warm tortilla. In this case, a complete breakfast includes cheesy scrambled eggs, savory Mexican chorizo, and tender potatoes.
They're not your average run-of-the-mill breakfast burritos – they're pretty decadent. The kind of thing you might crave after a night of a little too much fun when you need something savory and delicious to take the edge off. It's the chorizo – it really takes them over the top. I first started making these in ye olden days of 2009, and I still love them. Savory, cheesy, and a little rich. Have you tried Mexican chorizo? It's ground pork that has been heavily seasoned with paprika, salt, and garlic. Unlike Spanish chorizo, which is a smoked sausage, Mexican chorizo needs to be cooked first. I love Mexican chorizo (I've used it to make frittatas, too), and it's delicious in these breakfast burritos. For the potatoes, you can either shred your own russet potato or buy a bag of pre-shredded uncooked potatoes (the kind for hashbrowns), which you can find in the refrigerated section at the grocery store. I like to use a mix of cheddar and Monterey jack cheese, but you can use one type of cheese. Or, you can switch out either for pepper jack cheese, which would work well, too.
Ingredients:
1 (8-oz) package Mexican chorizo
2 tablespoons unsalted butter, divided
8 eggs, whisked
1 teaspoon salt, divided
1/2 teaspoon black pepper, divided
1/2 cup shredded cheddar cheese
1/2 cup shredded Monterey jack cheese
10 ounces shredded potatoes (see note)
1 tablespoon chopped parsley or cilantro, optional
4 burrito-sized flour tortillas