Crab and Corn Chowder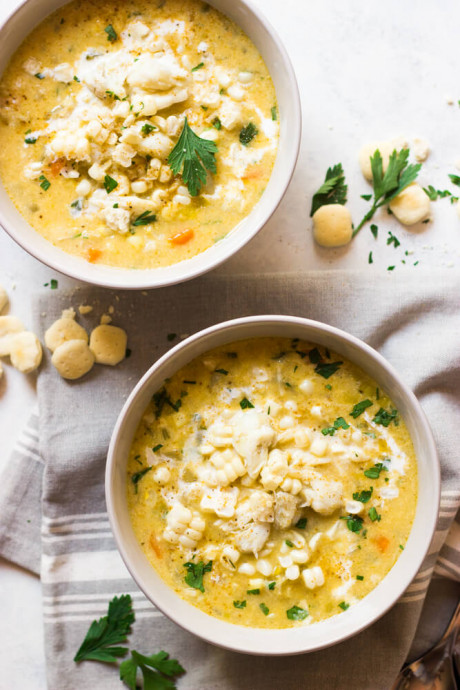 Crab and corn chowder with sweet corn from the cob, lump crab meat, no flour, and half and half. It's creamy, full of flavor, and a perfect family meal. There's nothing more I love than a good one-pot meal with a ton of veggies and flavor! Chowder is a type of thick soup or stew typically made with fish, clams, or corn with potatoes and onions. It is also prepared with milk or cream and thickened with a roux. For this crab corn chowder, I used my favorite thickening trick by puréeing some of the chowder before adding in the half and half. So that way it's creamy and thick without any need for a roux.
Leftover crab corn chowder recipe will last in the refrigerator for up to 3-4 days when stored in an airtight container. Reheat on the stovetop over medium-low heat. Avoid using high heat or the microwave as the cream can separate.
Made with fresh lump crab meat and sweet summer corn from the cob. This crab corn chowder recipe is creamy, full of flavor, and very filling. Serve it with oyster crackers or pair it with one of our light sides. See below for a full list.
Ingredients:
1 Tbsp. olive oil
1 Tbsp. unsalted butter
1 small/medium onion, chopped (1 cup)
2 celery ribs, chopped
2 medium carrots, peeled + chopped
2 leeks, white and light green part sliced into half-moons (2 cups)
2 large russet potatoes (about 2 lbs.), peeled and diced into small cubes
1 bay leaf
1 Tbsp. Old Bay seasoning, plus extra for serving
1 1/2 tsp. kosher salt
1 (32 oz.) carton chicken stock
3 large ears fresh sweet corn, husk + silk removed and kernels cut from cob (4 cups corn)
1 pound fresh lump crab meat (do not use canned or imitation)
1 cup half and half
1/4 cup finely chopped fresh parsley
Fresh ground black pepper