Triple Chocolate Mousse Cake Recipe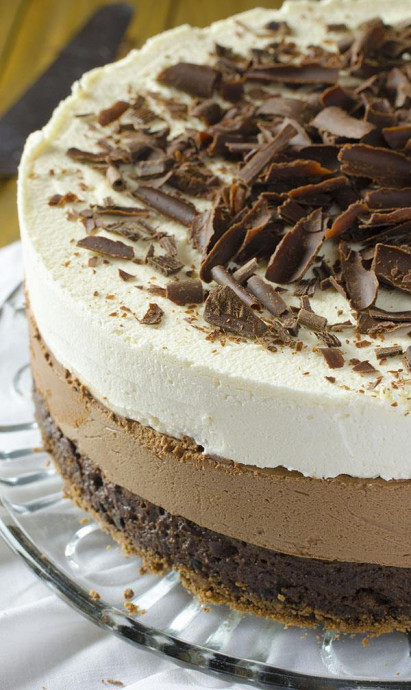 What if your chocolate cake has three chocolate layers instead of one? Then, we are talking about one of the most decadent chocolate cakes – Triple Chocolate Mousse Cake. I must say that Triple Chocolate Mousse Cake is not complicated to make. All three layers (the cake, middle layer with heavy cream and semisweet chocolate and top layer with white chocolate and heavy cream ) are really simple to make. Also, they will not require really top notch knowledge as you might have thought as I once did. Really, the steps were really simple and nothing in making these three layers was really problematic. The only thing you must be prepared for is lots of time a bunch of dishes which are waiting to be washed.
Of course, after all that, when you get this beautiful cake and cut the first piece, the first look at those three beautiful chocolate layers will be enough of an excuse for all your work and time. But what to say about the taste? If this Triple Chocolate Mousse Cake looked decadent, trust me, the taste is completely in sync with the look – fabulous.
Ingredients:
For the Cake
10 oz. high-quality semisweet chocolate (chopped)
4 large eggs (room temperature)
1/3 cup sugar
1/4 teaspoon salt
1 teaspoon vanilla extract
1/2 cup butter (softened at room temperature)
For Chocolate Mousse Layer
10 oz. high-quality semisweet chocolate(chopped)
1–1/2 cups heavy whipping cream
1 teaspoon unflavored gelatin
2 Tablespoons cool water
For White Chocolate Mousse Layer
7 oz. high-quality white chocolate(chopped)
1–1/2 cups heavy whipping cream
1 teaspoon unflavored gelatin
1 Tablespoon cool water