Chicken Tikka Masala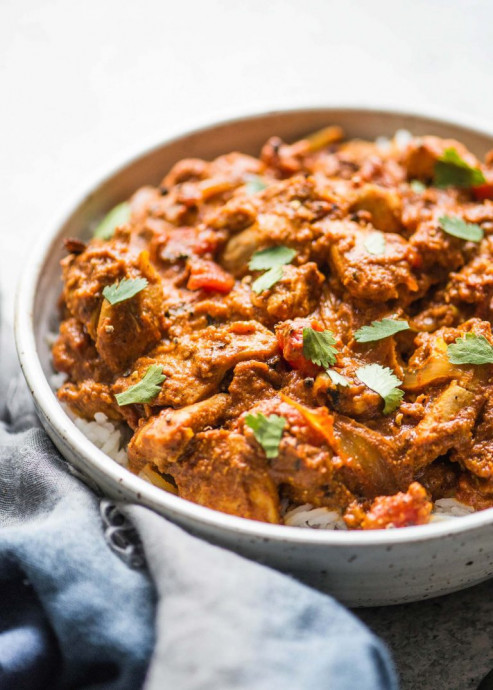 This easy stovetop Chicken Tikka Masala tastes just like your favorite Indian take-out and is ready in under an hour. Leftovers are even better the next day! This dish is made with chicken that gets marinated in a spicy curry sauce with plain yogurt and cooked with tomatoes, spices, and more plain yogurt. You can use breasts or thighs, and it's great served with rice.
It's easy to confuse these two Indian dishes: they're both chicken in a creamy, tomato-based, spicy sauce. However, Indian Butter Chicken is creamier and sweeter than Chicken Tikka Masala, which is spicier and more intensely flavored. Butter chicken is also made with butter instead of oil. Make this tikka masala in just a few (easy!) steps—the whole dish is ready in under 45 minutes! This easy chicken tikka masala recipe calls for a number of spices, but they all add to the characteristic deep flavors. This recipe is worth the raid on your spice cupboard. Leftover chicken tikka masala tastes phenomenal the next day because the spices develop more flavor overnight. Avoid using Greek yogurt if possible for this recipe. If it's all you can find, buy the Greek yogurt with the highest fat content you can find and mix it with a little whole milk to get the consistency of regular yogurt. This will give the sauce some insurance against separating.
Ingredients:
1 1/4 pounds boneless skinless chicken breasts, thighs, or a mix
6 tablespoons plain whole milk yogurt
1/2 tablespoon grated ginger
3 cloves of garlic, minced
1 teaspoon cumin
1 teaspoon paprika
1 1/4 teaspoons salt
2 tablespoons canola oil, divided
1 small onion, thinly sliced (about 5 ounces, or 1 1/2 cups sliced)
2 teaspoons grated ginger
4 cloves garlic, minced
1 tablespoon ground coriander
2 teaspoons paprika
1 teaspoon garam masala
1/2 teaspoon turmeric
1/2 teaspoon freshly ground black pepper
1 (14-ounce) can crushed fire-roasted tomatoes (regular crushed tomatoes work, too)
6 tablespoons plain whole milk yogurt
1/4 to 1/2 teaspoon cayenne pepper
1/2 teaspoon salt
Cooked rice, to serve
Cilantro, to garnish