Mini Coffee Cheesecakes with Oreo Cookie Crust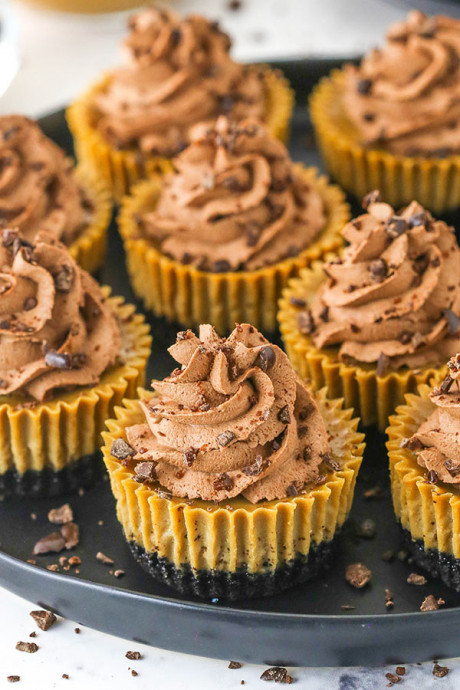 Filled with rich mocha flavors, these Mini Coffee Cheesecakes are the ultimate coffee addict's dessert! Creamy coffee cheesecake fills an Oreo cookie crust, all topped with chocolate whipped cream and chocolate covered espresso beans!
These cute little cheesecakes are basically a mocha in cheesecake form! Instant coffee flavors the filling and crushed espresso beans top off the treat. Combine that with the Oreo cookie crust and the chocolate whipped cream, and you have a marvelous dessert that perfect for a coffee lover.
The best part? These single serving cheesecakes are super easy to put together. The ingredients are minimal, but they provide maximum flavor! The coffee, chocolate and classic cheesecake flavors come together in each decadent bite. My mouth waters every time I think about these little cheesecakes!
Ingredients:
FOR THE CRUST
1 1/2 cups (201g) Oreo crumbs
2 tbsp (41g) butter, melted
FOR THE FILLING
12 ounces (339g) cream cheese, room temperature
1/2 cup (104g) sugar
2 tbsp (16g) all purpose flour
2 tbsp instant coffee granules
1 tbsp warm water
1/2 cup (115g) sour cream, room temperature
1 tsp vanilla extract
2 large eggs, room temperature
FOR THE WHIPPED CREAM
3/4 cup (180ml) heavy whipping cream, cold
3 tbsp (22g) powdered sugar
3 tbsp (14g) natural unsweetened cocoa powder
1/2 tsp vanilla extract
Chocolate covered espresso beans, crushed