No Bake Chocolate Tart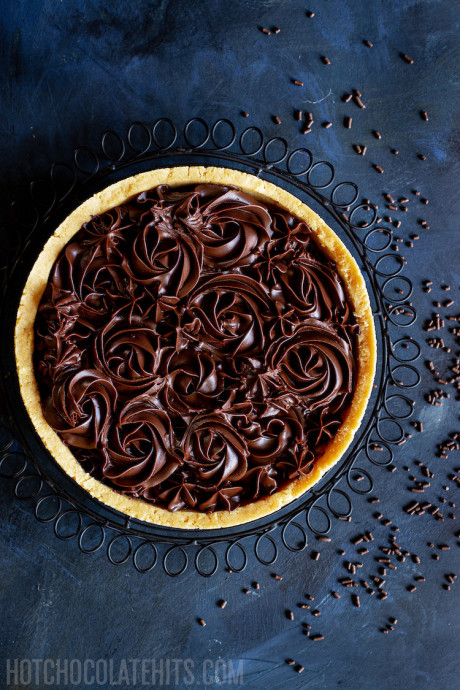 If you're looking for a stunning centerpiece, the grande finale to your dinner party, this simple chocolate tart ticks the boxes. Using a combination of only a few basic ingredients, this tart can be put together in minutes (although its appearance may suggest otherwise). I take advantage of the quick preparation time by embellishing this creation with piped rosettes. But even if you're a little lazy and prefer to pour the ganache into the tart shell instead, a simple dusting of cocoa will give it an air of grandeur.
The base is made using plain biscuits (tea biscuits), and the filling is a rich chocolate ganache infused with a touch of espresso powder. If you crave something more than the simplicity this dessert offers, feel free to add your own twists: Replace the plain cookies with chocolate ones (Oreos perhaps? Crushed pretzels are another way to go!). Add orange zest to the filling. Or a touch of peppermint extract. You could even spread a layer of jam on the base – feel free to play around.
Ingredients:
200 g tea biscuits or any other plain cookie (2 cups), crushed
100 g (just under ½ cup) unsalted butter, melted
For the chocolate filling:
300 mL (1 and ¼ cups) heavy cream
300 g (1 ¾ cups) chocolate, I use a combination of milk chocolate and dark chocolate, broken into chunks or chopped roughly
1 tsp of instant espresso powder (optional)
4 tbsp (50 g or 1/4 cup) unsalted butter at room temperature, cubed
Pinch of salt (I mention it in the video but don't add it- chocolate and salt are beautiful together)
cocoa powder, berries or whipped cream to serve