Molten Chocolate Cakes – with real chocolate centres!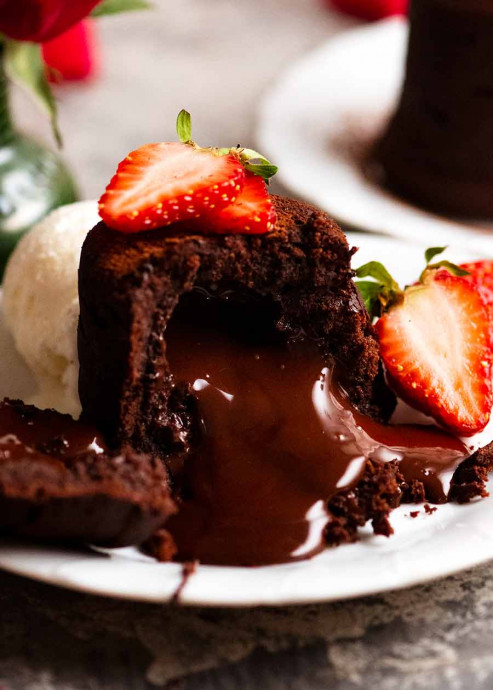 What's the one thing that makes these Molten Chocolate Cakes stand out from the crowd? The oozing chocolate center. It isn't raw cake batter, it's chocolate ganache. No more stressing about overcooking and losing the chocolate lava – because melted chocolate will always ooze!
Molten Chocolate Cakes, also known as Lava Cakes, are warm individual-size chocolate cakes with oozing chocolate centers.
Most recipes will simply have you undercooking a chocolate cake batter, so the outside is set like cake, but the inside is raw batter that pours out like lava when you cut into it. Hence, the name! But why settle for cake batter when you can have the real thing? I'll take molten real chocolate over raw cake, thanks! Extra bonus: keeps 3 to 4 days, and you still get the molten center because reheating won't cook the chocolate ganache inside! I just reheat in the microwave for 45 seconds, and it is as good as new. If you try reheating the raw cake batter Lava Cakes, the inside cooks.
Ingredients:
1/2 cup dark chocolate chips or melts/ semi sweet chocolate chips
4 tbsp cream , heavy/thickened
1 cup dark chocolate chips or melts/ semi sweet chocolate chips
100g / 7 tbsp unsalted butter , cut into 1cm / ½" cubes
2 eggs , at room temperature
2 egg yolks , at room temperature (Note 2)
1/2 cup caster/superfine sugar (sub ordinary white sugar)
2 tbsp flour , plain / all purpose
Ice-cream or cream (highly recommended!)
Cocoa or icing sugar / powdered sugar , for dusting
Strawberries , raspberries or edible flowers, optional decoration