Homemade Dried Tomatoes And Tips For Storing Them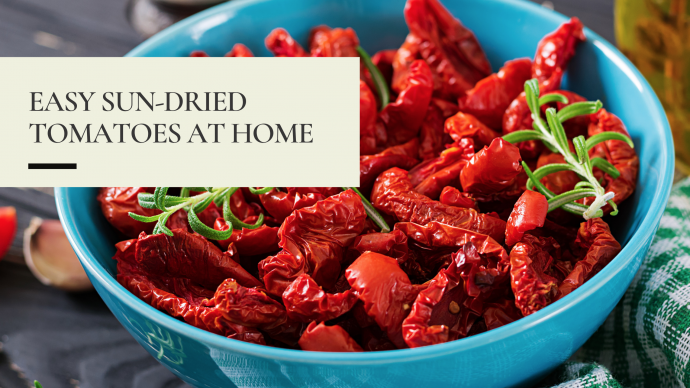 Sun dried tomatoes have a unique sweet taste and can last far longer than fresh tomatoes. Knowing how to sun dry tomatoes will help you preserve your summer harvest and enjoy the fruit well into winter. Drying tomatoes doesn't change any of the nutritional benefits of the fruit with the exception of the loss of some Vitamin C. These dried tomatoes are luscious, tender, and delicious! They'll also do double duty as an appetizer and a topping for toast. Making these tomatoes only requires three basic ingredients, a little bit of parchment paper, and time. Enjoy dried tomatoes out of the jar as a snack, or chop and use in salads, sandwiches, soups, stews, breads, and even as a pizza topping.
Ingredients
1 lb fresh tomatoes (stems removed)
Sea salt
2 tbsp extra-virgin olive oil
2 garlic cloves (optional)
1/2 tsp freshly ground black pepper (optional)
Italian seasoning (optional)
Directions
Step 1
Preheat the oven to 225 F. Line a baking sheet with parchment paper (don't use foil, which can react with the tomatoes).
Step 2
Slice tomatoes in half. Cut out the little core at the top of the tomatoes where they connected to the stem. Arrange cut side up on a baking sheet. Sprinkle very lightly with sea salt. In a small bowl, whisk together the crushed garlic, olive oil, salt, herbs and pepper. Spoon a bit of the mixture over each tomato, stirring as you go because the garlic tends to sink to the bottom of the bowl.
Step 3
Bake for 2 hours. Press down on the tomatoes with a spatula (juices will come out).
Return to the oven and bake for at least 2 more hours, until tomatoes are dry.
Step 4
If desired, drizzle with olive oil and sprinkle with Italian seasoning.
Serve right away! Bon appetit!
Tips
1. The longer you bake them, the more concentrated their flavor will be. Cool the tomatoes before transferring them to a platter. They can be served right away or will keep in the refrigerator for a few weeks.
2. These tomatoes can be served as a side vegetable with grilled or roasted meats and fish. They are even nice cut up and added to a salad, to a sandwich or on crackers with a dollop of goat cheese on top.
3. The tomatoes need to be watched to prevent scorching and tend to come out dark and brittle.
Made them at home? Let me know how it went in the comment section below!