Tuscan Chestnut Cake (Castagnaccio)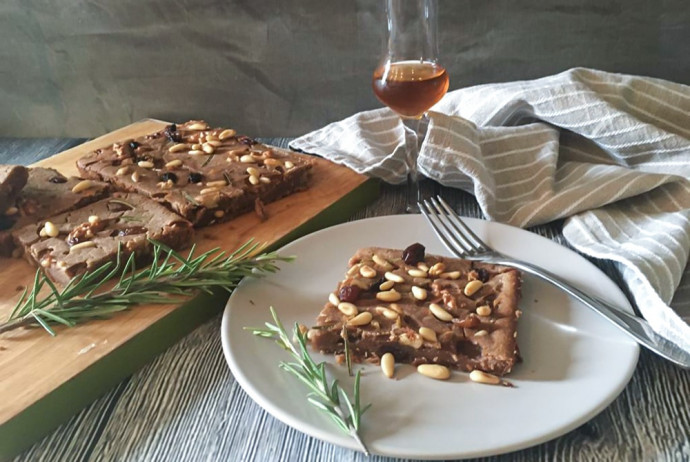 Castagnaccio recipe, a typical Tuscan dessert made with chestnut flour and enriched with raisins, pine nuts, walnuts and rosemary. It is a dense, flat, unleavened cake and it is a somewhat unusual dish in that it's a dessert, but not a very sweet one, and made with ingredients—such as olive oil and rosemary—that are more likely associated with savory dishes. It might be better described as a "semi-sweet flatbread," though that doesn't quite nail it down either.
It's very nutritious and simple to make, so give it a try and see how you like it! It's great served after a hearty fall meal with a glass of vin santo, nocino, or any other sweet dessert wine. It would make a unique and seasonally appropriate addition to a fall holiday dinner table, and since it just happens to be vegetarian, vegan, gluten-free and lactose-free, a great alternative dessert for those with dietary restrictions. If you love chestnuts and dried fruit, you will love Castagnaccio for its delicate and naturally sweet taste.
Ingredients:
300 g (10,5 oz) of chestnut flour
380 g (13,5 oz) of cold water
4 tablespoons of sugar (optional)
2 tablespoons of extra virgin olive oil
40 g (1,5 oz) of raisins
40 g (1,5 oz) of pine nuts
40 g (1,5 oz) of walnut kernels
2 sprigs of rosemary
1 pinch of salt