Blue Cheese Italian Sausage Pizza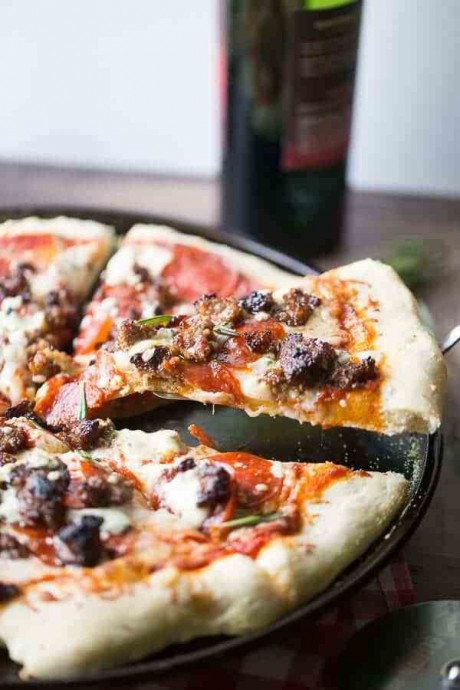 Time to take your ordinary sausage pizza and give it a gourmet spin! This homemade pizza has a big flavor that is made better with crumbled blue cheese! This pizza is easy and so good!
For this particular recipe, I used bulk Italian sausage. You can also use Italian sausage links, just remove them from their casings.
Another fantastic and flavorful option is to use a roll of Italian breakfast sausage! It crumbles nicely and tastes really good! If you do not want to use sausage for this pizza, you ground beef or ground pork. You could also use ground chorizo for a little spice! Pizza yeast should be pretty easy to find. It does help to make homemade pizza dough quick and easy! You can also use prepackaged pizza dough instead. You can either use a tube pizza dough (like Pillsbury) or frozen and then thawed dough or even ask your favorite pizza place if they sell their pizza dough! Boboli or other packaged premade crusts are fine. Blue cheese can be strongly flavored for some. Feta cheese or fresh mozzarella is also an option. I like to add fresh herbs like basil or rosemary to my pizza right before serving! This pizza goes perfectly with a good bottle of red wine!
Ingredients:
1/2 cup marinara sauce
2 cups shredded mozzarella
1 cup crumbled cooked, Italian sausage
1 cup pepperoni slices
1/4 cup crumbled blue cheese
1 - 2 cups of flour
1 package pizza yeast, 1/4 oz
1 1/2 teaspoons sugar
3/4 teaspoon salt
2/3 cup very warm water
3 tablespoons olive oil