Birthday Cake Truffles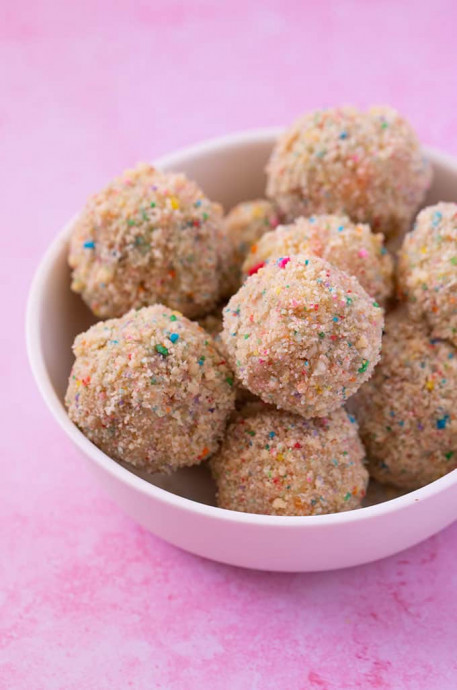 Learn how to make Birthday Cake Truffles just like the famous New York Bakery, Milk Bar. These truffles are made with leftover funfetti cake that's coated in white chocolate and rolled in homemade cookie crumbs. Celebrate all the good things in life with these amazing Birthday Cake Truffles. Buttery funfetti cake soaked in vanilla milk, rolled in white chocolate and covered in homemade birthday cake cookie crumbs.
Hands down, the best way to use up leftover cake. They're soft and sweet and oh-so-delish. The sugary coating is made from funfetti cookie crumbs that have been pulsed into fine crumbs, adding a little crunch. Then there's the crisp white chocolate shell that holds the soft, moist cake together. One bite and you'll be whisked away to cake truffle heaven. You can use any flavoured cake you like, but I do recommend using leftover funfetti cake or vanilla cake. If you are using actual leftover cake, you'll need to scrape off any frosting. Alternatively, you can bake a cake from scratch just to make these truffles – or even use a box mix cake.
Ingredients:
Birthday cake crumbs
105 grams (3/4 cup) plain flour
50 grams (1/4 cup) caster sugar
1 tablespoon cornflour or corn starch
60 grams (1/4 cup) unsalted butter, melted
1 teaspoon vanilla extract
50 grams (1/4 cup) funfetti sprinkles
Cake and milk soak
450 grams (4 cups) leftover funfetti cake or vanilla cake
60 ml (1/4 cup) full fat milk
1/2 teaspoon vanilla extract
White chocolate coating
200 grams (1 and 1/3 cup) white chocolate, roughly chopped
1 tablespoon vegetable oil or flavorless oil