Asian Glazed Baked Barramundi recipe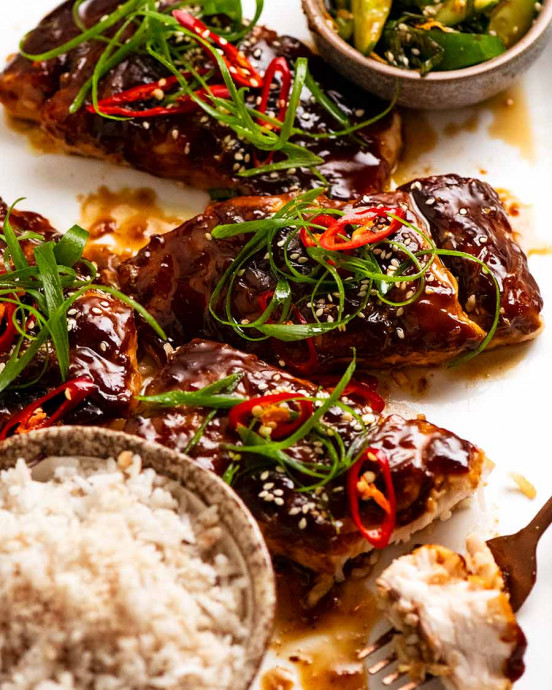 Baked fish can be so bland. So dial up the delicious factor by slathering with an Asian BBQ Sauce, then roast until caramelized! Savory, sweet, with a hint of spice and a lot of yum. We're making Baked Barramundi here, but almost any firm white fish will work for this recipe.
The reason pan-fried fish is so much tastier than just sticking it in the oven is because you get good browning. Color = flavor with anything, whether it's vegetables or meats. Fish fillets simply cook too quickly in the oven to get any color on them.
You can slather it with what we're calling an Asian BBQ Sauce, which caramelizes beautifully in the 20 minutes it takes to bake fish perfectly in the oven! Just think your favorite BBQ sauce like we use on pork ribs – but with Asian flavors. Savory, sweet, a hum of spice and tons of flavor!
Ingredients:
4 tsp cornflour / cornstarch
2 tbsp water
5 tbsp soy sauce , all-purpose or light soy sauce (Note 2)
4 tbsp honey (else maple syrup or 5 tbsp brown sugar)
1 tbsp sesame oil
1 tbsp Chinese black vinegar or rice vinegar (Note 3)
1 tbsp mirin (Note 4)
1 tsp sambal oelek , or other Asian chilli paste / sauce (Note 5)
1/2 tsp Chinese Five Spice (Note 6)
1 clove garlic , finely minced
1 tsp ginger , finely grated
1/4 tsp Sichuan pepper , or white pepper (Note 7)
GARNISHES
Sesame seeds
Green onions (Note 8)
Large red chilli, finely sliced