Easy Tostadas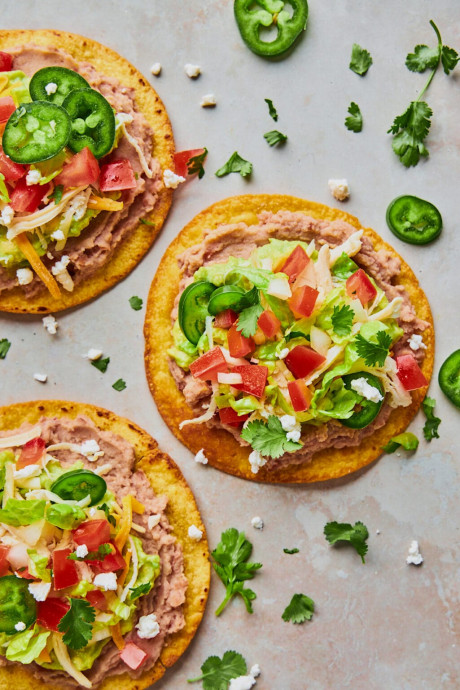 This is a classic recipe for Tostadas made with crispy corn tortilla shells, refried beans, guacamole, cheese, and lots of delicious toppings! It's a versatile recipe so everyone can make a version they love! Enjoy for an easy weeknight meal or serve to a crowd!
Tostadas are one of our favorite easy dinners! If you haven't had a tostada before, you have been missing out. Let me fill you in!
Tostada means "toasted" and usually refers to dishes made over crispy flat tortillas that are either oven toasted or fried. They are similar to tacos, but tostadas are flat and made on crispy tortilla shells. Tacos are made with soft tortillas, filled, and folded. If you are a taco fan, I bet you will love tostadas too. You basically load up a BIG salty tortilla chip with all of your favorite Mexican toppings. They are easy to make, fun to eat (a little messy), and SO delicious! This is one of those weeknight meals that the entire family loves. You can easily buy pre-made tostada shells at the store, but I like to make them so they are super fresh! Don't worry, they are easy. You can bake or fry the tortillas to get them crispy, but I prefer baking them in the oven. It's easy, healthier, and you don't have to mess with hot oil and your kitchen won't smell like fried food for days.
Ingredients:
For the Tostadas
6 corn tortillas
Avocado oil or olive oil, for brushing tortillas
Kosher salt, for sprinkling on tortillas
Refried Beans, can use canned refried beans
Guacamole
1 cup shredded cheddar or Mexican blend cheese
2 cups shredded rotisserie chicken
Optional Toppings:
Shredded Lettuce
Pico de Gallo, my favorite
Salsa
Sour cream or plain Greek yogurt
Queso fresco
Cilantro
Jalapeño slices
Creamy Cilantro Lime Dressing, add a little drizzle
Hot sauce, add a few dashes for heat