Chocolate Lasagna (No-Bake Dessert)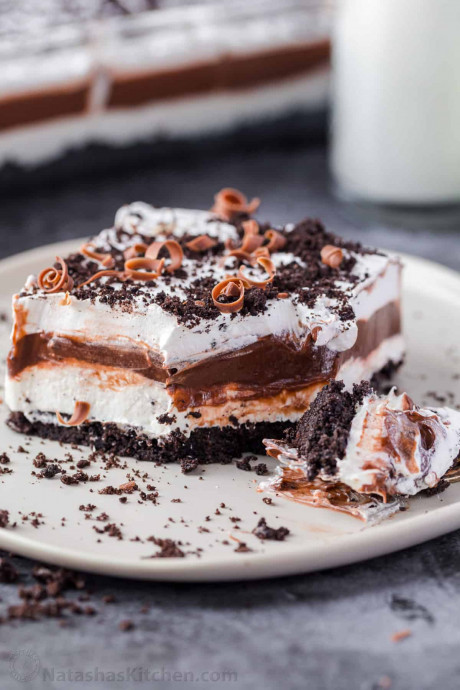 A classic recipe for Chocolate Lasagna. This easy, no-bake dessert is layered with crushed Oreos, cream, and chocolate pudding. This dessert was made popular by Olive Garden's Chocolate Lasagna. If you like chocolate cake but don't like to bake, you have found yourself a new favorite dessert recipe. The dessert comes together so quickly. The crunchy Oreo crust with a cheesecake layer and chocolate pudding makes for a phenomenal combination of flavors.
We love make-ahead crowd-pleasing desserts like Panna Cotta and Baklava. This chocolate pudding layer dessert is a winner for parties and potlucks and loved by kids and adults alike. You can be adventurous (by adding bacon bits) or more classic toppings once the layers are in place. Here are some options: chocolate mints, broken in pieces, mini chocolate chips, Reese's pieces, chocolate ganache, chocolate shavings, crushed Oreos, melted chocolate, drizzled, dusted with cocoa, marshmallows. This dessert is great to freeze, covered. Thaw in the refrigerator overnight before serving. You can serve it partially frozen and it will be a little like ice cream cake. Freezing works best when using cool whip without substitutions.
Ingredients:
Crust Layer
14.3 oz pack of Oreos
6 Tbsp unsalted butter melted
Cheesecake Layer:
12 oz cream cheese room temp
1 tsp vanilla extract
1/4 cup powdered sugar
8 oz cool whip refrigerated (whipped topping)
Chocolate Pudding Layer:
7.8 oz instant chocolate pudding (two 3.9oz packages)
3 1/4 cup cold whole milk
Top Layer:
8 oz cool whip refrigerated (whipped topping)