Borracho Beans (or Frijoles Borrachos)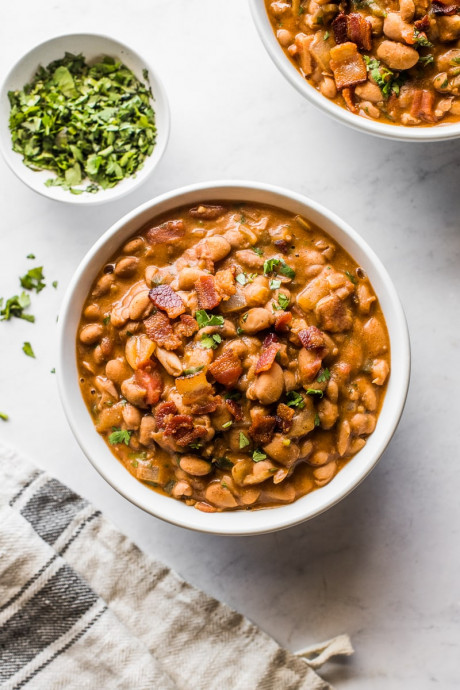 Tender and creamy Borracho Beans (or Frijoles Borrachos) are an easy Mexican dish made from pinto beans simmered in a beer broth with bacon, onions, tomatoes and spices. Serve with a side of cornbread or flour tortillas for the perfect Tex-Mex dinner!
Borracho Beans (or Frijoles Borrachos in Spanish) translates to "drunken beans." They're called this because the beans are cooked in beer. But don't let the name fool you – these beans won't leave you feeling boozy. The entire recipe contains only one 12-ounce beer, which translates to one ounce per serving.Borracho beans and charro beans are very similar. The difference is that borracho beans are cooked in beer and charro beans are not. Charro beans are typically cooked in water or chicken or beef broth.You can use any type of green pepper you have. Now that is one mouth-watering pot of borracho beans! Just the smell of these beans makes me think of barbecues and summer cookouts with my friends and family.
While you can certainly eat a big bowl of these frijoles as a main meal, I usually eat them as a side dish. Here are a few ideas of what to serve them with: Carne Asada, Cilantro Lime Chicken, Pollo Asado, Easy Jalapeno Cornbread, Flour Tortillas.
Ingredients:
1 pound dried pinto beans* (see tips below for using canned beans)
1/2 pound uncooked bacon
1 small onion, diced
1 jalapeno, diced (seeds and veins removed if you don't want it spicy)
4 cloves garlic, minced
2 teaspoons chili powder
1 teaspoon ancho chili powder (or regular if you don't have ancho)
1 teaspoon dried oregano (Mexican oregano preferred)
1 teaspoon coarse kosher salt
1/2 teaspoon ground cumin
1 14-ounce can diced tomatoes
1 12-ounce bottle dark lager beer (I used Negra Modelo)
1 tablespoon dark brown sugar
1/4 cup chopped cilantro