Flank Steak with Chimichurri Sauce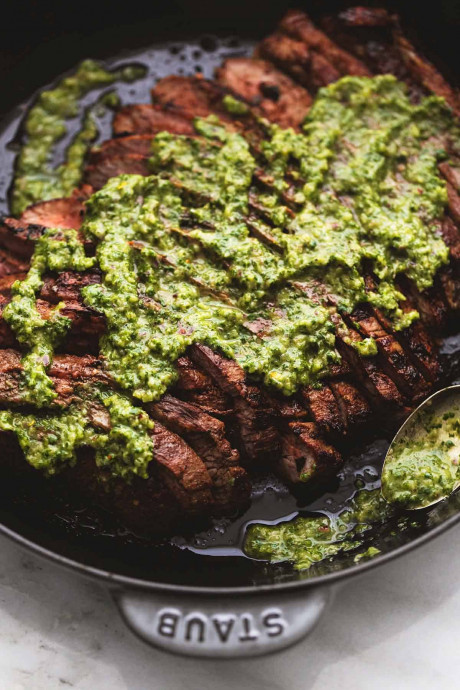 Easy Argentinian marinated Flank Steak with Chimichurri Sauce is bursting with bold savory flavors and just a hint of heat. This quick-seared steak is so tender and juicy it will melt in your mouth.
This steak marinade is super simple, and only involves a couple of pantry staple ingredients. You let the steak sit in the marinade for at least 30 minutes or up to 8 hours or overnight for sheer steak perfection. If you're a steak-and-sauce combo fan, may I suggest you back away from the A1 and make this super simple, garlicky chimichurri sauce ASAP. It will change the way you think of steak forever.
Chimichurri sauce is typically made of parsley, garlic, some kind of vinegar, and spices such as salt, pepper, oregano, and red peppers in olive oil. Feel free to experiment with herbs and spices till you find the perfect combination of chimichurri sauce for you! I don't know many people who don't like steak and if they don't then maybe they just haven't tasted this one yet! I promise, if you're a steak lover, then you'll love this flank steak recipe. It's perfect for guests! Steaks are great to cook for one sure, but it's even more fun to grill them out for a crew. Wow last-minute guests or your monthly couples' dinner party with these amazing chimichurri steaks.
Ingredients:
Marinade
1/4 cup oil
1 teaspoon chili powder
1 teaspoon onion powder
1 teaspoon salt
juice of 1 lime
Chimichurri Sauce
1/2 cup cilantro
1/2 cup parsley
1/2 onion, diced
1 teaspoon salt, or to taste
1/4 teaspoon pepper, or to taste
1 tablespoon garlic
1/2 teaspoon Italian blend seasoning
1/2 teaspoon crushed red pepper flakes
1/3 cup oil
2 tablespoons red wine vinegar or apple cider vinegar