Chiles Rellenos Casserole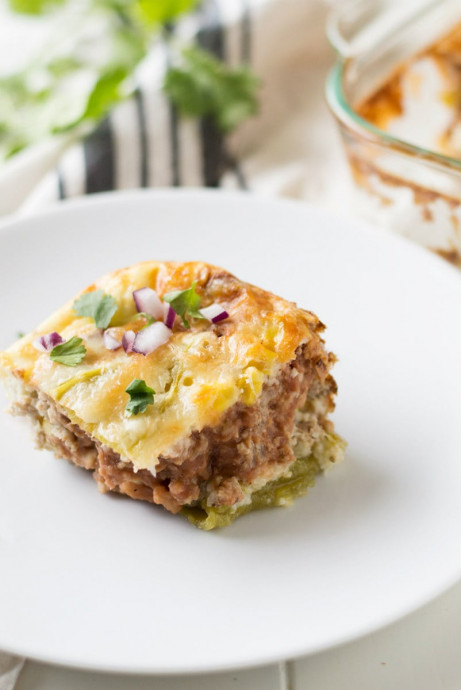 This Chiles Rellenos Casserole is a healthier version of classic Chiles Rellenos. Classic Chiles Rellenos are made by stuffing fresh charred chiles with cheese, dipping them in egg batter and frying. They're good, but they're quite an indulgence since they're fried. This casserole version of Chiles Rellenos is easy to make, and it's so much better for you too.
Ground turkey or chicken is cooked with onion and mixed with several spices and refried beans. Green chiles are spread into a baking dish and topped with cheese and the meat/bean mixture. Corn, more chiles, and cheese are layered next. A mixture of eggs, milk and Tabasco sauce is poured on top. That's it! Then it's baked, and it can be enjoyed in about an hour. If you're worried about calories, just garnish with a little red onion and cilantro, and maybe a little salsa. If calories aren't part of the equation, go ahead and add sour cream and avocado too!
Ingredients:
8 ounces ground chicken or turkey
1 cup chopped onion
1¾ teaspoons ground cumin
1½ teaspoons dried oregano
1/2 teaspoon garlic powder
1/4 teaspoon salt
1/4 teaspoon pepper
One 16-ounce can fat free refried beans
Two 4-ounce cans whole green chiles, drained & cut lengthwise into quarters
1 cup (4 ounces) shredded Colby-Jack cheese, divided
1 cup frozen corn, thawed & drained
1/3 cup all-purpose flour
1/4 teaspoon salt
1 1/3 cups nonfat milk
1/8 teaspoon Tabasco sauce
2 large eggs, lightly beaten
2 large egg whites, lightly beaten
chopped red onion and cilantro, for garnish (optional)