Quinoa Salad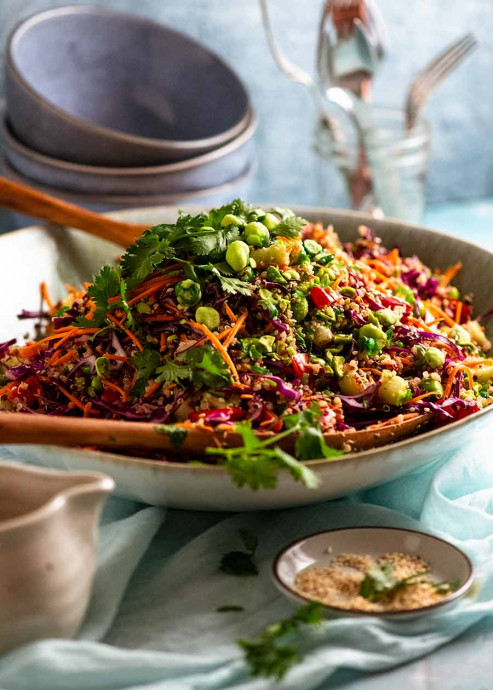 If the thought of a Quinoa Salad doesn't exactly rock your world, you and I will probably be friends. But being fully aware of the nutritional benefits of quinoa, I decided it was high time to grow up and start getting excited about it. I'm not going to lie to you. Put me in front of a salad bar, and you won't see me pause for a beat in front of any option containing quinoa.
It's not that I dislike quinoa as such. In fact, when cooked well (psst, toasting it certainly elevates it to loftier heights!), I'll happily scoff it down plain, just like I do rice. I think it's more how it's heralded so staunchly by "healthy" foodies, who insist it's a superior alternative to rice and other grains we love that makes me – somewhat childishly! – want to not follow the trend.
Anyway, I finally grew up. So I'm here today with my favorite Quinoa Salad. I have eaten a lot of quinoa salad in the past year, in a bid to get on board the quinoa train. And this is The One! Call it a "fusion" salad, call it a "mash-up" if you like. Whatever you call it, this Asian-inflected salad has it all going on!
Ingredients:
QUINOA
1 cup quinoa , tri-colour
2 cups water
SALAD
1 cup cucumber , finely diced
1 carrot , medium, peeled and finely shredded
3 cups red cabbage , finely shredded (~1/4 small or 1/8 large cabbage)
2 green onions , finely sliced
250g/ 8oz cherry tomatoes , small ones quartered, large ones cut into 6
1 cup shelled edamame , cooked per packet then cooled
1 red capsicum/bell pepper , finely chopped
1/2 cup coriander/cilantro leaves , finely chopped
DRESSING:
5 tbsp soy sauce , light or all-purpose
2 tbsp mirin
2 tbsp rice wine vinegar (sub: cider, sherry or champagne vinegar)
2 tbsp sesame oil , toasted
2 1/2 tbsp canola, vegetable or grapeseed oil
2 1/2 tbsp Kewpie mayonnaise (sub whole-egg mayo such as Hellman's or S&W, Note 8)
2 1/2 tsp sugar (white or brown)
2 tsp ginger , freshly grated
1 garlic clove , crushed using garlic press or finely grated using microplane
GARNISHES:
1/3 cup wasabi peas , crushed
1 tbsp sesame seeds , toasted