Baked Ginger Salmon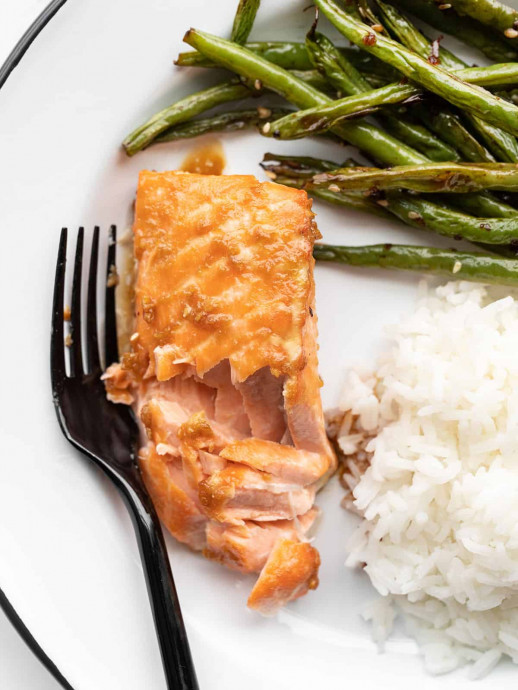 Salmon is a bit on the expensive side, but it's a really nice "sensible splurge" to have on special occasions or when you want to treat yourself. Fish can be intimidating if you've never cooked it before, but I promise that this Baked Ginger Salmon is so foolproof that it's a great beginner fish recipe. I also love this recipe for the fact that the leftovers hold up really well, so it's a really great item for meal prep.
Salmon filets come in a variety of thicknesses, even sometimes within one fillet, you'll have one end that is very thick while the opposite end is very thin (like the filet I used in the photos below). Thankfully, this recipe is pretty forgiving. For thicker fillets (1-2 inches thick) you'll want to bake your salmon for about 20 minutes, for thinner fillets (½-inch or so) you'll probably only need around 15 minutes. Since my fillet had both a thick end and a thin end, I baked for the whole 20 minutes and the thin side was still not dried out.
Because this main dish is so simple, i like to keep everything in the meal super simple. Today i served my baked ginger salmon with sesame roasted green beans and plain rice, but i think this salmon would also be amazing served over my crunchy cabbage salad. You could also pair it with something simple like steamed broccoli and sesame rice.
Ingredients:
1 tsp grated fresh ginger
1 clove garlic, minced
2 Tbsp brown sugar
1 tsp soy sauce
1/4 tsp toasted sesame oil
1 lb. fresh salmon