Cauliflower Crust Bacon and Egg Pizza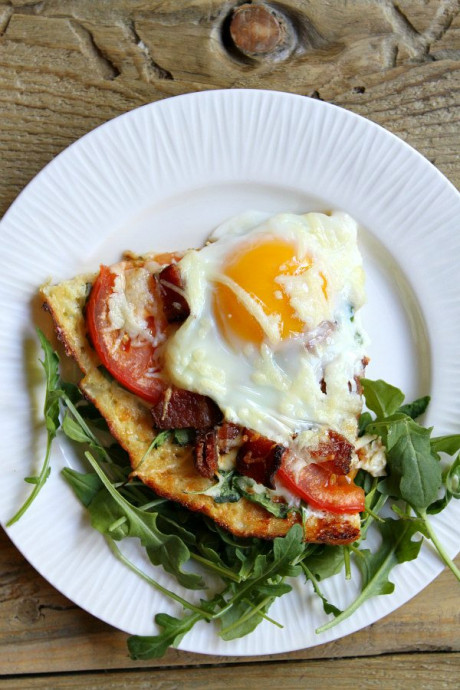 Cauliflower Crust Bacon and Egg Pizza is a delicious way to use up a head of cauliflower! This is a great idea for a breakfast-for-dinner that you can try. It's something a little bit lighter to eat when you're surrounded by so many other things that are not so good for you! I'm forever obsessed with cauliflower. And eggs. So this is just about the perfect pizza! The (gluten free) crust is made up of a simple list of ingredients: cauliflower crumbles, mozzarella cheese, egg, garlic powder and onion salt. No rolling is necessary. Just pat it into a circle on a silpat or parchment-lined baking sheet, and bake for 15 minutes. This pizza serves four. Everyone gets a slice with a whole egg on it!
Bake your egg-topped pizza as long as you'd like… it depends on how you prefer your eggs. I like them to be a little bit runny when you break into them. This is such a great, gluten-free, healthier way to make pizza with plenty of protein on top with the bacon and eggs. Enjoy!
Ingredients:
CRUST:
4 cups cauliflower crumbles (see *tips below)
1 large egg
1 cup finely shredded Mozzarella cheese
1/2 teaspoon garlic powder
1/2 teaspoon onion salt
TOPPINGS:
1 handful (about 1 cup) arugula or chopped spinach
1 medium tomato, sliced thinly
4 slices cooked bacon
4 large eggs
1/4 cup shredded Parmesan cheese