Tom Yum Soup (Thai soup)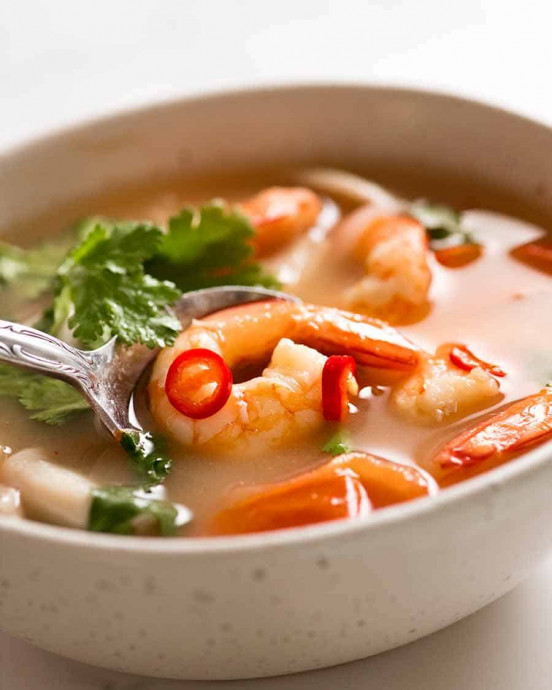 Tom Yum soup – everybody's favorite Thai soup is finally here! Choose from the classic clear Tom Yum Goong, or make the creamy Tom Yum version – both are made with the same broth. Simple to make using whole fresh OR peeled frozen prawns / shrimp, this is astonishingly easy to make once you've gathered the ingredients! Bonus: Tom Yum is probably the healthiest Thai dish ever, clocking in at just 156 calories!
Key to this soup broth are all the fragrant fresh herbs and spices. The kaffir lime leaves, lemongrass, galangal, chilli and garlic. They impart such beautiful flavor into the soup! The ingredient gathering is the hardest part of this recipe, being that the aromatics aren't pantry staples and depending how well stocked your grocery store is, might require a trip to an Asian store. The broth looks deceptively simple – clear and unassuming. But wait until you try it! It's got terrific complexity of flavor from the prawn/shrimp shells – basically it's a homemade prawn stock with a ton of aromatics added!! Whichever you choose – classic clear or the creamy version, you are going to love it. It tastes 100% authentic, as good as you get at Thai restaurants. I exaggerate not – some favorite takeout dishes are difficult or simply can't be replicate at home because we don't have commercial grade equipment.
Ingredients:
300g / 10oz whole prawns / shrimp with heads and shells on
3 cup (750 ml) water
1/2 cup (125 ml) chicken stock/broth , low sodium
2 stalks of lemongrass , outer layers peeled
1.5 cm / 3/5" piece of galangal , cut into 4 slices
5 kaffir lime leaves , torn roughly
2 Thai or birdseye chillies
3 garlic cloves
120g / 4oz oyster mushrooms
1 roma tomato , cut into wedges
1/2 white onion (medium sized), cut into wedges about 1 cm thick
1 tsp sugar
3 tbsp fish sauce
3 tbsp lime juice
Coriander/cilantro , for garnish
1 1/2 tbsp Thai roasted chili sauce
1/3 cup (75 ml) evaporated milk