Split Pea Soup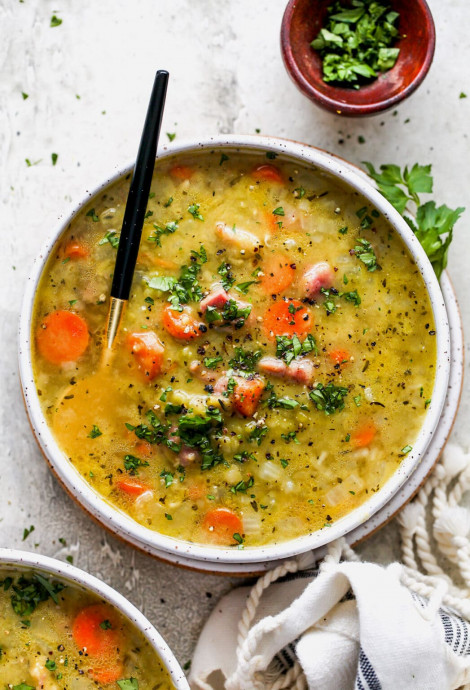 Loaded with nutritious veggies and bright color, this Split Pea Soup is a classic that's perfect for chilly days and weeknights that call for comfort food! It is also a great recipe to use up leftover ham! This homemade Split Pea Soup is filled with tender vegetables, robust herbs and spices, and it's flavored with savory ham. This is one of Josh's all-time favorite soup recipes and we make it whenever we have leftover ham.
It is usually our go to meal after the holidays when we are tired from cooking and need a good, easy meal. It's the best recipe for using up leftover ham. Split peas are dried peas that are high in fiber, protein, vitamins, and minerals. They have a slight sweet flavor and creamy texture that makes perfect for soup. You can find split peas in most grocery stores by the dried beans. We use green split peas for this soup recipe. You don't have to soak the split peas to make this soup. Sure, soaking will help them cook faster, but it isn't necessary. You want the soup to simmer for awhile so the flavors can develop.
This soup simmers for 60 minutes, which gives the peas plenty of time to cook to tender perfection. If you do soak the peas before cooking, you can reduce the cooking time by 20 minutes. You can also freeze this soup for up to three months. Make sure the soup is completely cool and pour into a freezer container, leaving about an inch at the top because the soup will expand as it freezes. Defrost, reheat, and enjoy!
Ingredients:
1 tablespoon olive oil
1 yellow onion, chopped
2 celery ribs, chopped
2 cloves garlic, minced
2 bay leaves
1 teaspoon dried thyme
¼ teaspoon dried rosemary
8 cups chicken broth or stock
16 ounces dried green split peas, picked over and rinsed
2 ham hocks (can use leftover ham bone from cooked ham)
Kosher salt and black pepper, to taste
2 small carrots, chopped
2 cups chopped cooked ham, optional
Chopped fresh parsley, for garnish, optional