Arancini Rice Balls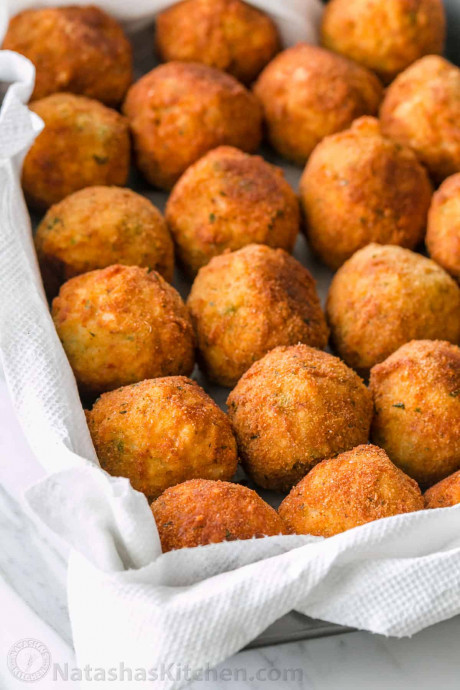 Arancini are crisp on the outside with a creamy, cheesy center. Children and adults love these classic Italian rice balls. They such a treat fresh off the stove, stuffed with glorious gooey cheese. This arancini recipe is similar in flavor to one of the most popular recipes on my site; the Creamy Chicken and Rice (a one-pot-meal) – if you loved that dish, you'll enjoy these cheesy rice balls! Arancini are a satisfying treat – filled with a risotto-like creamy rice, ham, sweet peas, parmesan and mozzarella cheese. Serve with warmed marinara pasta sauce, these are wonderful for lunch on their own or paired with a fresh green salad.
Sicilian Arancini are rice balls stuffed with cheese and other fillings such as cheese and meat, the coated with bread crumbs and deep fried. The fillings vary by region but arancini have been popular in Italy for centuries.
Even if you aren't a fan of "deep fried" foods, give this one a try. Arancini are coated in a light layer of fine Italian bread crumbs and the rice is compacted, so they hardly soak up any oil and do not have the taste or mouth feel of a deep fried food. Arancini are best served warm when they are creamy and cheesy in the center. They are just as good freshly cooked as they are reheated, especially when you reheat in the oven to re-crisp the exterior.
Ingredients:
2 Tbsp olive oil
2 Tbsp unsalted butter
1 medium onion finely diced (about 1 cup)
1 cup ham finely diced (about 3 oz)
2 cups Jasmine rice un-rinsed
1 cup Chardonnay (dry white wine)
5 cups chicken broth or stock (hot)
1 tsp salt (plus more to sprinkle fried arancini)
1 cup frozen peas fully thawed
1/3 cup parsley finely chopped
1 cup parmesan cheese shredded
4 oz mozzarella cheese cut into 24 (1/2-inch) cubes
For Breading/ Frying:
1 cup all-purpose flour
3 large eggs beaten with a fork
1 1/2 cups Italian bread crumbs
Oil for frying vegetable, canola, or grapeseed oil