Lemon Cheesecake Cookies (Soft-Baked)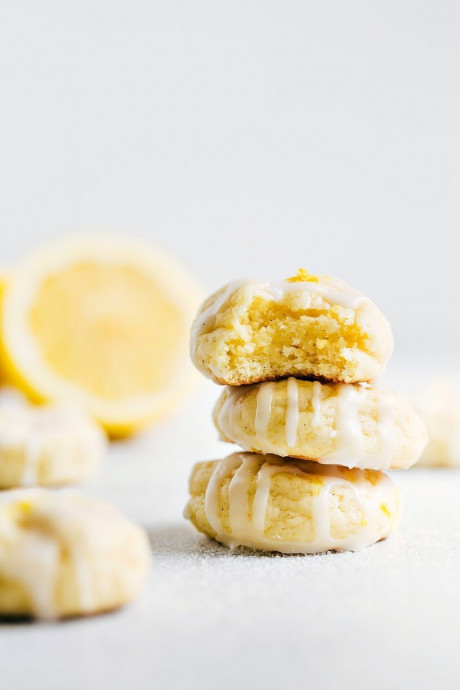 Lemon Cheesecake Cookies are thick, soft, and chewy with a cheesecake-like texture and a simple lemon glaze. These aren't your typical cookies, but they may just become your new favorite dessert! If you like cheesecake, lemon, and thick, chewy cookies you are going to go crazy for Lemon Cheesecake Cookies! They taste like a miniature cheesecake in cookie form and are so different from your typical chewy chocolate chip cookies or peanut butter cookies.
While I believe every second of effort is worth it for these cookies, they do take a bit more time than your average cookie recipe. It's important for the cream cheese and butter to get to room temperature before starting, and then, these cookies need some chilling time before baking. Plan on a good three hours from start to finish for these treats, even though most of that time is hands off.When zesting the lemon, be careful to avoid the white part directly under the yellow peel. This is called the pith of a lemon and is very bitter.These cookies use dry, unprepared lemon pudding mix–not an entire mix, but just 2 tablespoons of it. This pudding mix is important for flavor, consistency, and softness of the cookies, so I don't recommend leaving it out.
Ingredients:
3/4 cup (142g) white granulated sugar
1/4 cup (4 tablespoons; 56.8g) unsalted butter
4 ounces (112g) full-fat cream cheese
1 large egg
1 teaspoon vanilla extract
1 teaspoon pure lemon extract
2 teaspoons freshly squeezed lemon juice
1 tablespoon lemon zest
1 and 1/4 cup (146g) white, all-purpose flour
1/2 teaspoon baking powder
1/4 teaspoon fine sea salt
1/2 teaspoon cornstarch
2 tablespoons lemon-flavored pudding and pie filling mix (See Note 1)
1/2 cup (59g) powdered sugar
2-3 teaspoons fresh lemon juice