Oatmeal Raisin Cookies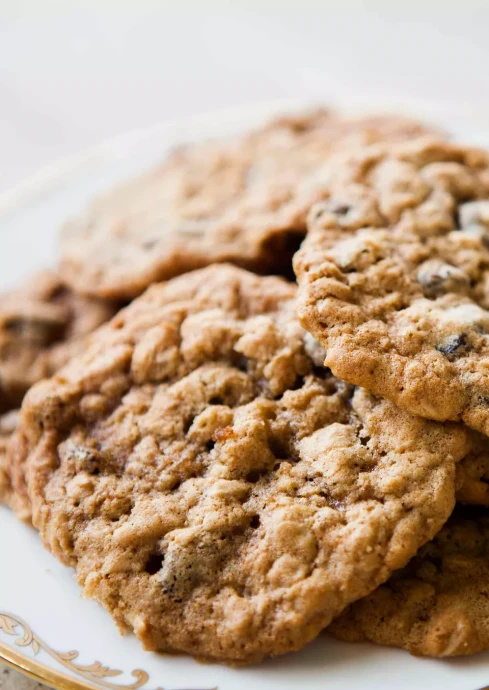 They're a little chewy in the center and a little crispy at the edges. Each bite is loaded with oats and sweet bursts of raisins.
My grandmother used to bake oatmeal raisin cookies with me from the time I was old enough to stand on a chair and hold a spoon. Making these cookies taught me how to measure, how scrape down the sides of a mixing bowl, and the purest pleasure of all—licking the bowl. Old-fashioned rolled oats or quick rolled oats are the best to use for oatmeal cookies. We've always used Quaker brand, so if you use a different brand, you may find you need to adjust the recipe. Do not use steel-cut oats (they'll be too hard) or instant oats (they'll cook up too mushy). Once cooked, keep the cookies stored in a covered container on the counter. They'll stay fresh for several days.
You can make the dough ahead of time and refrigerate it for up to 2 days (cover tightly with plastic wrap), before scooping and baking. Or, you can scoop out individual cookies onto a baking sheet, freeze them until firm, then transfer them to a storage container or freezer bag and freeze for up to 3 months. Frozen balls of cookie dough can be baked from frozen (no need to thaw), but might need a few extra minutes of baking time.
Ingredients:
1 cup (1/2 pound or 2 sticks) unsalted butter, softened, OR 1 cup shortening
1 cup brown sugar, packed
1/2 cup plus 2 tablespoons granulated sugar
2 large eggs
1 tablespoon vanilla extract
1 1/2 cups all-purpose flour
3/4 teaspoon salt
1 teaspoon baking soda
1 teaspoon ground cinnamon
1/2 teaspoon freshly grated nutmeg
1 1/2 cups raisins
1/2 cup chopped walnuts (optional)
3 cups rolled oats (We use Quaker Old Fashioned or Quick. Do NOT use instant.)