Three Sisters Butternut Squash Chili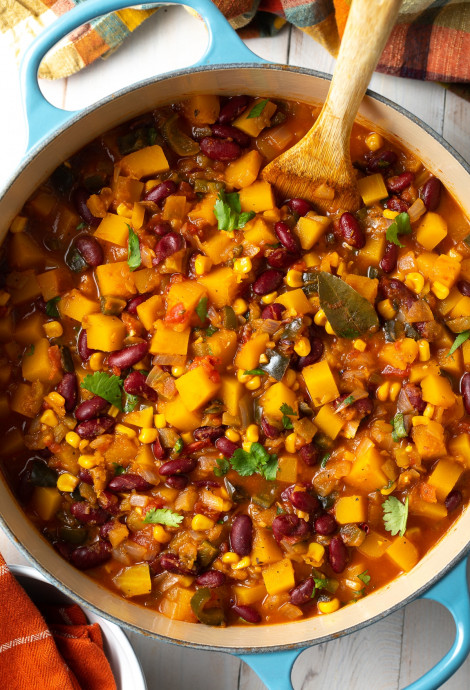 This vegetarian chili is hearty and filling. Made with fresh harvest produce that was meant to be together, you certainly won't leave the dinner table feeling hungry. This Slow Cooker Vegetarian Chili Recipe is rich and inviting! The blend of chiles, spices, meat, and vegetables is a family favorite, we love to make the moment the weather turns cool. Although we love meaty chilis, I've discovered making vegetarian chili for groups is the way to go. Our vegetarian and vegan friends are happy, and the meat-eaters won't even miss the meat in the veggie chili, if it's well made.
Today's amazing Vegetarian Chili Recipe is bold and rustic with chunks of butternut squash, peppers, beans, and corn. It can be made on the stovetop or in a slow cooker! "The Three Sisters" in the title is derived from an old tale about Mexican and Navajo gardening culture… Corn, beans, and squash grow best when planted together. The corn stalks offer support for the other crops. The beans pull in nitrogen from the air to benefit the soil. And the big squash leaves protect the soil to keep it moist and prevent weeds. The Mexicans and Navajos believe that because these vegetables grow well together, they pair well together in recipes as well. Can you freeze Three Sisters Chili? Yes, you can! Place it in an airtight container and keep in the freezer. Then thaw to room temperature before you reheat it.
Ingredients:
¼ cup butter (olive oil for vegan)
1 large sweet onion, peeled and chopped
2 peppers, seeded and chopped
5-6 cloves garlic, minced
1 whole butternut squash, peeled, seeded, and chopped into 1/2 inch cubes
3 – 15 ounce cans red kidney beans, drained and rinsed
28 ounce can crushed fire roasted tomatoes
3 cups vegetable broth
13.5 ounce canned chopped green chiles, mild or medium
10 ounces frozen corn, or fresh
1 tablespoon ground cumin
1 teaspoon dried oregano
1 bay leaf
½ cup chopped cilantro
Salt and pepper