Mom's Picadillo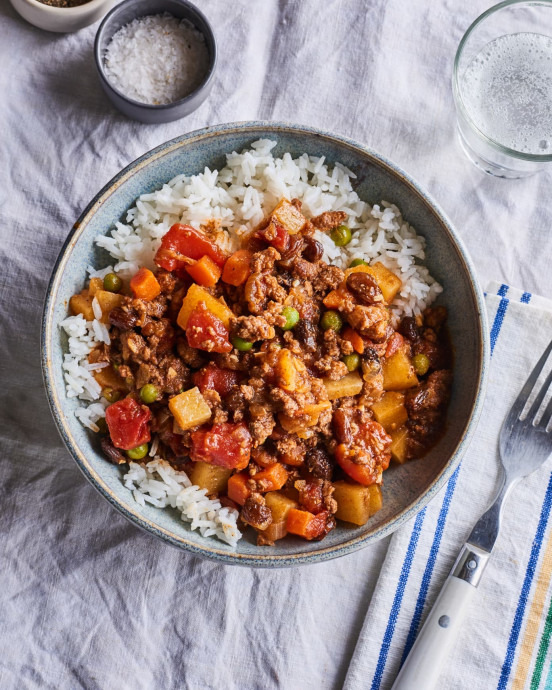 Picadillo comes from the Spanish word picar, which translates to "mince," referring to the chopped meat. The dish took on many forms as it made its way across the Spanish colonies — depending on the area, it could be made with ground beef, pork, or even seafood. Across Latin America, you'll find varieties that have cumin, olives, or hard-boiled eggs, and in some countries, picadillo is stuffed into empanadas. Some recipes include annatto for added color, but my mom uses paprika, so that's what I call for here.
After making this dish so many times for my own family, I understand why my mom used to make it for me. It's fast and simple, cooks in one skillet, and is very comforting and satisfying. On top of all that, it uses pantry staples, making it a low-cost dinner option.
This is just a basic recipe for picadillo that will allow you to make your own version at home, one picadillo recipe that you can claim as your own. For many, this is also a comfort food, a hash made out of ground beef and potatoes that can be as diverse as your imagination (and your supply of ingredients) allows.
Ingredients:
1 medium yellow onion
4 cloves garlic
8 ounces russet or Yukon gold potatoes (1 to 2)
2 tablespoons vegetable oil
1 pound lean ground beef, ground pork, or a combination
1 1/2 teaspoons kosher salt, divided, plus more as needed
1 tablespoon tomato paste
1 (14.5-ounce) can diced tomatoes
1/2 cup water
1 teaspoon paprika
1/2 teaspoon freshly ground black pepper, plus more as needed
Soy sauce or coconut aminos (optional)
1 cup frozen peas and carrots
2/3 cup raisins
Cooked white rice, for serving