Raspberry Crumb Bars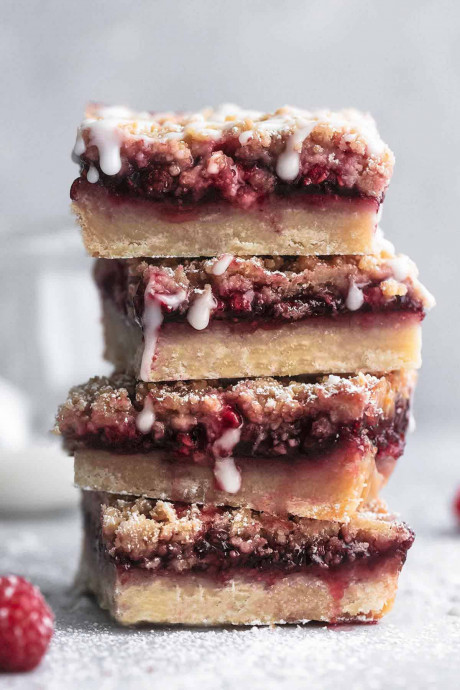 Easiest raspberry crumb bars made with preserves and fresh raspberries sandwiched between a layer of buttery, flaky crust and a sweet, oatmeal topping, plus a glaze for good measure!
The reasons why this raspberry dessert works are simple, and so is the recipe! Whole raspberries — The combination of whole raspberries and raspberry preserves makes for the perfect sweet/tart flavor and texture. Crumb topping — Let's face it, crumb bars aren't complete without the crumb part right? This one is a winner with part butter, part sugar, plus flour and oats for crunch and texture. Simple instructions — In less than an hour you can put together the crust, filling, topped, and glazed and have it baked and cooled and in your belly. Customizable — No raspberries? No problem! You can substitute just about any berry you have on hand.
If you think you're going to want more than the 12-16 bars that this recipe will yield, you can easily double it and put it in a 9×13 pan. Just be sure to cook them an additional 5-10 minutes in the oven.
Ingredients:
Crust
1 cup butter, melted
1/2 cup sugar
2 teaspoons almond or vanilla extract or 1 teaspoon of each
1/2 teaspoon salt
2 cup flour
Filling
1 cup raspberry preserves
1 cup fresh raspberries divided
Crumb topping
8 tablespoons butter, chilled
1/2 cup brown sugar
1/2 cup old fashioned rolled oats
3/4 cup flour
1/4 teaspoon salt
Glaze
1 cup powdered sugar
1/2 teaspoon vanilla or almond extract
3-6 tablespoons milk, as needed