Easy Baked Tofu Nuggets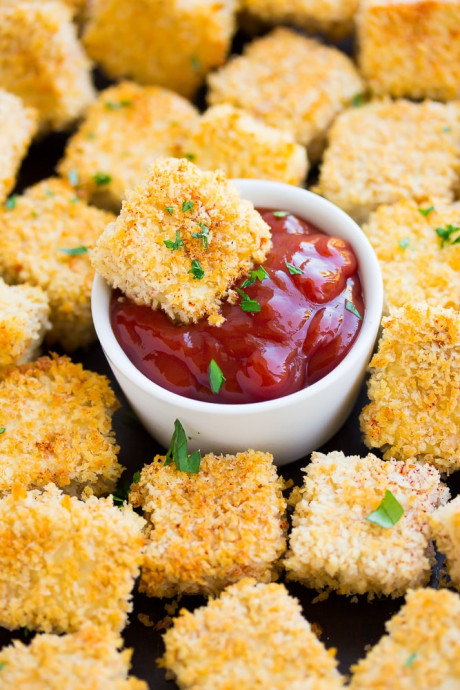 Crispy on the outside, tender on the inside, these bite sized tofu nuggets are easy to make and certain to please all the kids (and grown-ups!) in your life. You won't believe how crispy they get in the oven. Serve with Oven Roasted Potato Wedges, and maybe add a green vegetable like green beans or salad, and you've got a kid-friendly, protein packed dinner.
They also make a great appetizer at any party or get together, served with a variety of dipping sauces, such as ketchup, Vegan Ranch or BBQ Sauce. The most amazing vegetarian nuggets are baked to crispy perfection. They're so good that you might finish a few servings in one sitting! These tofu nuggets are perfect for your next game day party, because they are fussless to prepare, extra yummy, and even taste great when cold. I developed a batter that not only makes the tofu extra flavorful without marinating, but also is more adhesive than the average egg wash and can easily coat the tofu with more breadcrumbs. That equals extra crunchiness. The recipe works great for baked tofu or fried tofu. If you want your tofu nuggets to have that beautiful, even, golden color, you need to deep-fry them. However, I always opt to bake them. They might not look as perfect, but believe me, nobody will notice because they'll be gone in a few seconds.
Ingredients:
16 ounce block extra-firm tofu
1/2 cup unsweetened almond milk
1.5 tablespoons cornstarch
1.5 tablespoons ground flaxseeds
1/4 teaspoon salt
1 cup panko breadcrumbs
1/2 teaspoon garlic powder
1/2 teaspoon smoked paprika
1/4 teaspoon salt