Cheese Danish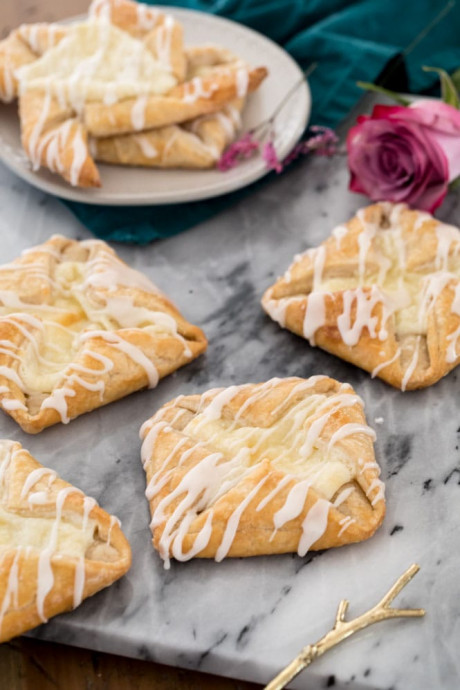 A simple and delicious recipe for flaky and delicious Cheese Danish! These are made with easy homemade puff pastry, though you can substitute store-bought in a pinch.
Once you have that pastry made, you're only 25 minutes away from perfect homemade breakfast pastries. Perfect for brunch or holiday breakfast spreads or (let's be real) any random Tuesday the craving happens to hit.
I always thought danishes were difficult to make, and the puff pastry can be a bit time consuming, but we've mastered that now (and if we haven't, there's always store-bought). They're not difficult, and homemade is better than any pre-packaged breakfast pastry you've ever tried. The filling is smooth and creamy, like a pocket of cheesecake or cream cheese frosting encased in buttery, flaky pastry. The glaze is simple and a perfect compliment to top everything off. The square shape that I used in today's recipe is is the simplest and most basic design for making cheese danishes.
Ingredients:
1 batch homemade puff pastry may substitute 1 box thawed store-bought puff pastry
8 oz cream cheese softened (226g)
½ cup granulated sugar 100g
1 teaspoon lemon juice
¾ teaspoons vanilla extract
1 large egg
2 teaspoons water
1 cup powdered sugar 125g
3-5 teaspoons milk
½ teaspoon vanilla extract