Buffalo Chicken Burger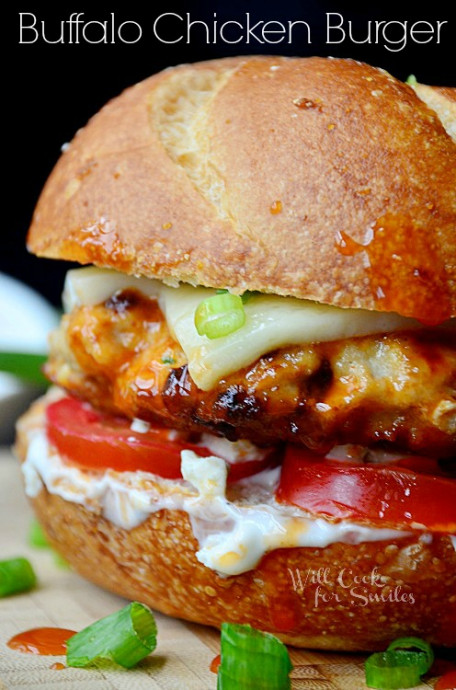 Buffalo Chicken Burger is an amazing sandwich that hits so many taste buds. Juicy chicken burger cooked in buffalo wing sauce and made with ranch dressing, blue cheese crumbles, Mozzarella cheese, and veggies. Adjust the spice level by using mild, medium, or hot buffalo wing sauce. I prefer to use mild or medium sauce because I'm a weakling and can't handle anything hotter. And, I prefer to be able to taste my food while chewing it without being in complete physical pain. But if you like it hot and like it spicy, go for the hot stuff and make it a blazing chicken sandwich.
Chicken burgers are wonderful because they are so easy to make and can be served any time of the day. Serve it for dinner with some veggies or as a sandwich for lunch. Buffalo style chicken burger is one of our favorites for an easy and finger-licking-delicious lunch. When it comes to ranch, I prefer to make my own. Mainly because I still can't find store-bough ranch that's as good as my homemade ranch.
There are so many things that will go perfectly with this burger. If you're trying to serve something to help cool down the spiciness of the burger, try a green salad, celery sticks, mashed potatoes, or cucumber slices. Don't forget to serve some extra ranch dressing on the side.
Ingredients:
1 lb of ground chicken
1/4 cup finely chopped onion
2 cloves of garlic pressed
1 egg
1/4 cup plain bread crumbs
Salt
Fresh cracked pepper
1 tsp minced fresh dill weed
1 tsp minced fresh parsley
2 tbs oil for cooking
Burger buns
Buffalo sauce
Ranch Dressing
Blue cheese crumbles
Tomato slices
Chopped green onion
Sliced Mozzarella cheese