Frozen Yogurt Bark with Berries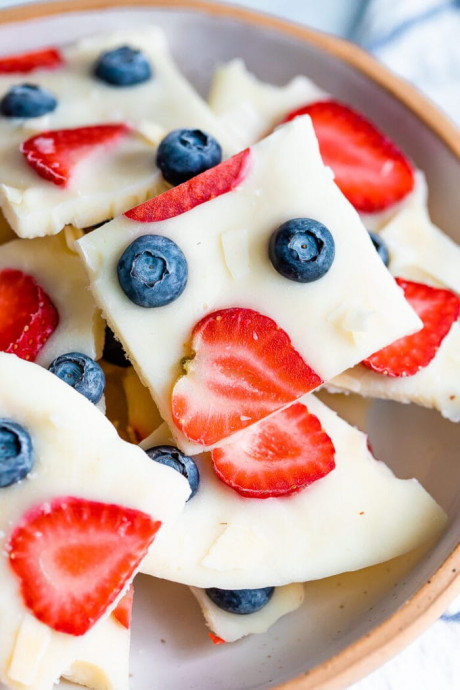 This frozen yogurt bark with berries and coconut is the perfect refreshing snack. It's so easy to whip up, healthy and packed with protein. You'll want a batch in your freezer at all times. This recipe is super simple to make – it's the perfect recipe to involve your kids in. I personally like using full-fat Greek yogurt for yogurt bark because it's thicker and a bit more rich, but you can use regular plain yogurt if that's all you have and low-fat yogurt if you're wanting to cut back on the fat content. You can also experiment with using flavored and sweetened yogurt!
The maple syrup in this recipe sweetens up the Greek yogurt just enough. If you want to keep the recipe super low in sugar you can use plain yogurt without sweetening it, but I think it tastes really good with a little maple syrup. You can use any fresh berries you like, but I love the combo of strawberries and blueberries. The coconut flakes are optional, but they do add a nice (almost chewy) texture to the yogurt bark. There are so many ways to customize this yogurt bark! Want to try a different fruit combo all together? Go for it! You really can't go wrong.I recommend storing your frozen yogurt bark in an airtight container in the freezer until you're ready to serve! I've been using freezer storage bags for mine. If possible, serve in a cool spot or encourage your guests (or family members!) to enjoy immediately on a hot day. I like bringing it out of the freezer a few minutes before serving, just to let it soften up the tiniest bit.
Ingredients:
1 1/2 cups plain full-fat Greek yogurt
2 Tablespoons maple syrup or honey
1 teaspoon vanilla extract
1/3–1/2 cup fresh strawberries, sliced
1/3–1/2 cup fresh blueberries
2–3 Tablespoons unsweetened coconut flakes