Country Fried Chicken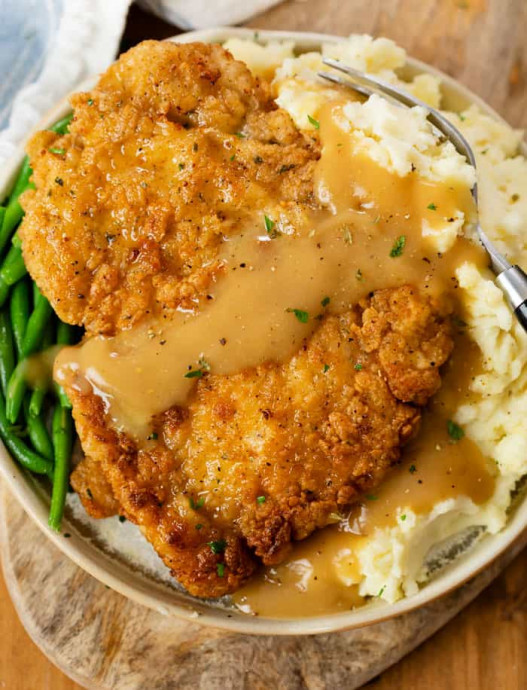 This Southern-style Country Fried Chicken is easy to make with chicken breasts and staple ingredients! Serve it with gravy and mashed potatoes for an old fashioned comfort food that your family will love! Pounding the chicken is the most time consuming step. Although you could save time by cutting the chicken into thinner slices instead, I recommend tenderizing it for the following reasons: It makes the chicken super tender.
It creates more texture on the outside of the chicken so you can work more breading into the crevices. That's what gives it that Country Fried Chicken texture and crunch. It cooks evenly and more quickly. Chicken plumps up when it cooks, so pounding it thin will allow it to expand more when cooked and still have that nice, thin, restaurant-quality look and feel. The key step is soaking chicken in buttermilk. Why? It enhances the tenderness and flavor of the chicken, as it contains enzymes that help break down the protein fibers. It helps the breading to stick to the chicken much better by providing grip. It has fat and acids that help break down the outer skin which results in a crispier outer crust. Store in an airtight container and refrigerate for up to 3 days or freeze for up to 3 months.
Ingredients:
4 boneless skinless chicken breasts
1 ½ cups vegetable oil
2 cups buttermilk, see notes for substitutions
2 large eggs, whisked
3 teaspoons salt
1 ½ cup all-purpose flour
½ cup breadcrumbs, plain or Italian
2 ½ teaspoons seasoned salt
¾ teaspoon paprika
½ teaspoon cayenne pepper
1 ½ teaspoon black pepper