Creamy Roasted Cauliflower Soup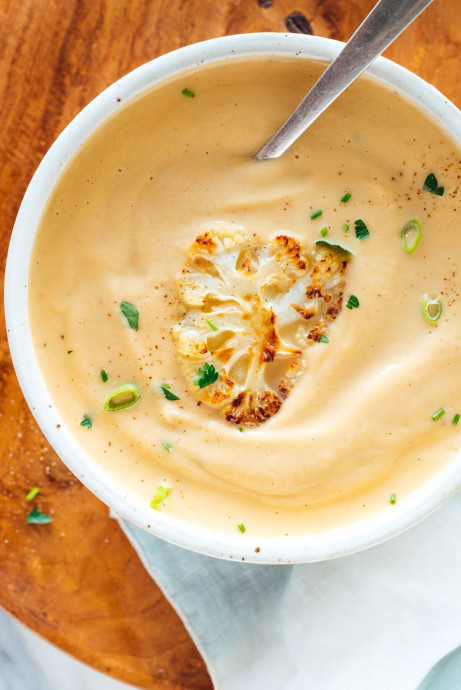 The creamiest roasted cauliflower soup! This flavorful soup is made with wholesome ingredients, all plant-based and gluten-free. The recipe is easy to make and perfect for weeknight dinner! Lusciously creamy, yet cream-less, cauliflower soup. This cauliflower soup recipe will absolutely satisfy your craving for warm, creamy soup—no cheese required. I know "cauliflower soup" might not sound super appealing if you've never had it before. Trust me, it can be so delicious! Today, I'm sharing my favorite cauliflower soup recipe, and I can't wait for you to make it at home.
Creamy roasted cauliflower soup is simple, healthy, and so unbelievably tasty! Loaded with veggies, low-carb, vegan-friendly, and works great for meal prep. This soup calls for basic ingredients but yields amazing flavor. If you have a head of cauliflower in the fridge, you probably have everything else you'll need. This cauliflower soup is the perfect accompaniment to salads and sandwiches. This traditional cauliflower soup will go with just about any other fall or winter flavors, including butternut squash, Brussels sprouts, and greens like arugula and kale. It'll warm you up without weighing you down This soup freezes well for later. This recipe doesn't yield a ton (about 4 medium bowls), but if you have extra, just freeze it!
Ingredients:
1 large head cauliflower (about 2 pounds), cut into bite-size florets
3 tablespoons extra-virgin olive oil, divided
Fine sea salt
1 medium red onion, chopped
2 cloves garlic, pressed or minced
4 cups (32 ounces) vegetable broth
2 tablespoons unsalted butter
1 tablespoon fresh lemon juice, or more if needed
Scant ¼ teaspoon ground nutmeg
For garnish: 2 tablespoons finely chopped fresh flat-leaf parsley, chives and/or green onions