Easy Corn Fritters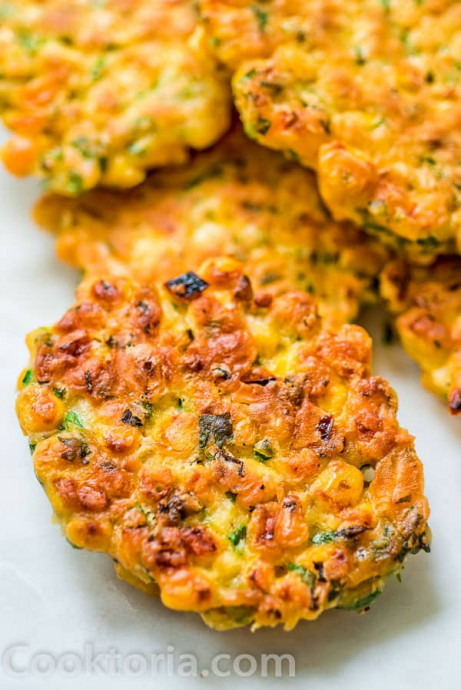 These easy Corn Fritters are sweet, delicate, and filling. They can be prepared with fresh, frozen, or canned corn. Simple recipe – great taste! Made with sweet corn, bell pepper, herbs, eggs, and flour, these corn fritters are bursting with flavor and hold their shape well. Kids and adults love them, and they make a great snack or a light lunch.
Now that I've inspired you to make these Corn Fritters, let's get to down to basics. These can be made with fresh, frozen (and thawed), or canned corn with great success. If using fresh corn, just slice the corn off the cob with a small sharp knife, turning the ear as you go. If using frozen corn kernels, thaw them first, by putting them in a sieve and running them under warm water.
If using canned corn, drain the liquid using a strainer. Serve these fritters with a fresh salad on the side for a filling and healthy lunch. Or serve these as a snack with a dipping sauce on the side. Here are some dipping sauce ideas: Tzatziki (Low Fat Yogurt & Cucumber Dip), Copycat Outback Bloom Sauce, Cilantro Jalapeno Sauce, Yogurt, Sour Cream.
Ingredients:
1/2 cup all-purpose flour
1 egg
1/4 cup water
1 tsp. baking powder
1 tbsp. olive oil
1 cup corn kernels fresh or canned
1 medium bell pepper seeded and diced
1/4 cup chopped parsley
1/4 cup chopped chives
1/2 tsp. salt or to taste
1/2 tsp. pepper or to taste
olive oil for frying about 3-4 tablespoons