Lemon Ricotta Crepe Cake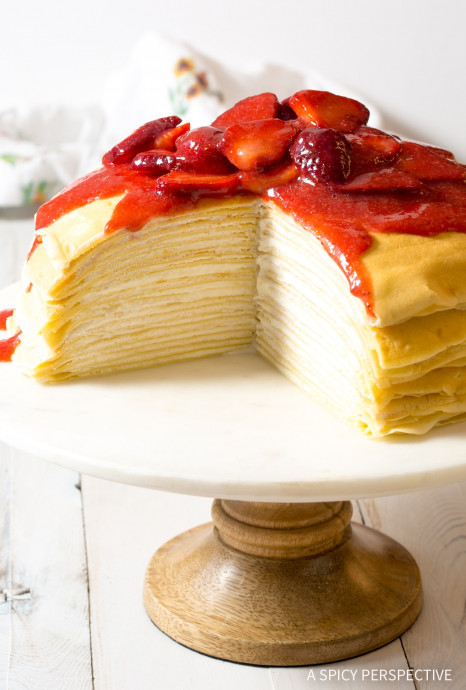 Lemon Ricotta Cake (Crepe Cake) – Elegant, yet easy to make. This sweet treat is just the thing to serve for any special occasion! There are so many celebrations that are wonderful excuses to make decadent desserts. For instance, this brilliant lemon ricotta cake recipe for is perfect for Easter, upscale birthday parties, and Mother's Day! This no-bake cake is exactly what it sounds like… A stack of crepes with filling layered in between.
In this Crepe Cake with Strawberry Sauce variation, the crepes are quickly cooked on the stovetop with a kiss of lemon zest to offer a bright citrus essence. Then a whipped ricotta cream filling is spread in between each crepe layer, to hold the layers together and provide sweetness. The cake is topped with summer strawberries and perky strawberry sauce. This sauce provides beautiful contrast to the sweet cream filling, and a pop of fresh flavor. However, the real showstopper of this Lemon Ricotta Cake with Strawberry Sauce is the layers. Just look at all those exquisitely delicate layers of goodness! Plus, you can serve this versatile crepe cake as a brunch item or as dessert.
Ingredients:
1 1/4 cups heavy cream
1/2 cup granulated sugar
1 teaspoon vanilla extract
32 ounces ricotta cheese
3 cups fresh strawberries, hulled and divided
1/3 cup strawberry jam
Pinch salt
Chopped pistachios, optional garnish
2 1/2 cups all-purpose flour
3 tablespoons granulated sugar
1 1/2 teaspoons salt
5 large eggs
1 2/3 cups whole milk
1 1/4 cups water
3 tablespoons melted butter
Zest of 1 lemon + 1 tablespoon juice