Salt and Pepper Pork Chops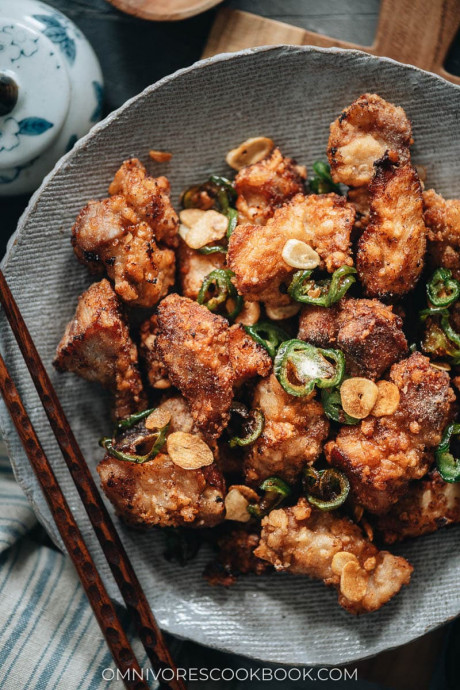 Restaurant-style salt and pepper pork chops are crispy, juicy, and delightful – ideal for many versatile meal ideas any night of the week. There is nothing worse than a dry pork chop. If yours keep coming out that way, then you need to try my salt and pepper pork chops. You'll master the method of creating incredibly tender and juicy pork, something you can do even after a hectic day. On the outside, the coating has a wonderful crispness to contrast with the juiciness, and all of it comes together for extraordinary flavor.
Is your pantry in need of a refresh? Salt and pepper pork chops can be made with ingredients you likely already have. They are one of my go-to recipes when I'm short on time and ingredients. And if you have company, no one will ever guess how simple they truly are. Rest assured, you can have these on your table in less than 30 minutes and the possibilities you can come up with to enjoy salt and pepper pork chops are endless. Aside from the flavor, what I love most about salt and pepper pork chops is that you can do so many different things with them. You can serve them for an appetizer when you have a dinner party or gathering. You can make them your main dish on any night of the week…just serve them over steamed rice!
Ingredients:
1 lb (450 g) boneless pork chops , cut into irregular 1/2" to 1" (1 to 2.5 cm) pieces (See the blog post above for how to cut the chops)
Marinade
2 tablespoons vegetable oil
1 tablespoon Shaoxing wine (or dry sherry for gluten-free)
1 tablespoon cornstarch
1/2 teaspoon salt
Pepper salt
1/4 teaspoon salt
1/2 teaspoon white pepper
Cooking
1/4 cup cornstarch
1/2 cup vegetable oil (or enough to cover half of the pork)
3 cloves garlic , sliced
1 jalapeno , thinly sliced