Slow Cooker Potato Soup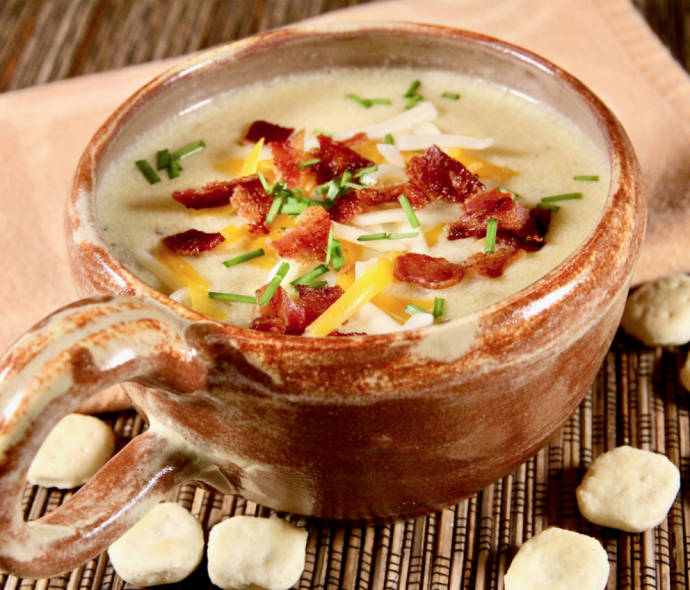 Crockpot Potato Soup couldn't be any easier and is great comfort food. It's cooked all day in the slow cooker and is great for dinner. Top with bacon, cheese, and green onions for the ultimate potato soup. This soup is versatile – add broccoli or ham to give it a twist. This will become your go-to crockpot potato soup recipe.
This Slow Cooker Potato Soup recipe is easy to make in the crock-pot, and it's perfectly thick and creamy and flavorful (without having to use heavy cream)! This soup is super rich and creamy (but made a tiny bit lighter without heavy cream), it requires less than 20 minutes of prep time (mostly just chopping those potatoes), and it's wonderfully comforting and delicious. But unlike the common classic potato soup recipe, your crock pot gets to be the one to slow cook this soup to perfection. This soup has a really high taste to effort ratio!
Ingredients:
6 slices cooked bacon, diced
3–4 cups good-quality chicken or vegetable stock
2 pounds Yukon gold potatoes**, peeled (if desired) and diced
1 medium white or yellow onion, peeled and diced
4 tablespoons bacon grease* (or butter)
1/3 cup all-purpose flour
1 (12-ounce) can 2% evaporated milk
1 cup shredded reduced-fat sharp cheddar cheese
1/2 cup plain low-fat Greek yogurt or low-fat sour cream
1 teaspoon Kosher salt, or more to taste
1/2 teaspoon freshly-cracked black pepper
optional toppings: thinly-sliced green onions or chives, extra shredded cheese, extra bacon, sour cream