Creamy Bacon and Mushroom Pasta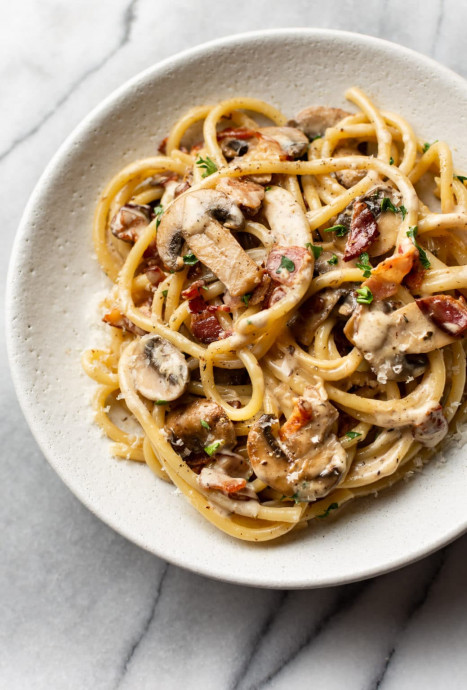 This bacon and mushroom pasta recipe has crispy bacon and plenty of mushrooms in a delicious garlic herb cream sauce. It only takes about 30 minutes to make! This pasta dish is easy enough for a busy weeknight but tasty enough for company. And everything is better with bacon. To make this mushroom and bacon pasta, you start by boiling some water for the pasta and make the sauce while it cooks. Fry up some bacon, then once it's nice and crispy, you transfer it to a plate and sauté the mushrooms in the leftover bacon grease.
Add in the garlic, then take the mushrooms out of the pan and start making the sauce by adding the chicken broth (or wine), Italian seasoning, lemon juice, and Dijon mustard. Once that has been stirred together and reduced a bit, add in the cream and let it simmer for a couple of minutes. The bacon and mushrooms are then added back to the pan and cooked through for a few more minutes. Toss with the drained pasta and serve.
I don't have a brand preference for the wine, but something dry like a sauv blanc or pinot grigio will work. You can use chicken broth if you don't want to open a bottle/don't have any. You can swap the cremini mushrooms for another variety like white mushrooms. The lemon juice and Dijon mustard add more depth to the sauce so that it's not boring and one-dimensional. Don't worry... the sauce doesn't taste like mustard if you're not a fan.
Ingredients:
8 ounces uncooked pasta (I used bucatini)
6 strips bacon cut into small pieces
7 ounces cremini mushrooms sliced
2 cloves garlic minced
1/3 cup chicken broth or dry white wine
1/4 teaspoon Italian seasoning
1 teaspoon lemon juice
1 teaspoon flour
1/2 teaspoon Dijon mustard
1 cup heavy/whipping cream
Salt & pepper to taste
For serving: freshly grated parmesan cheese and chopped parsley optional